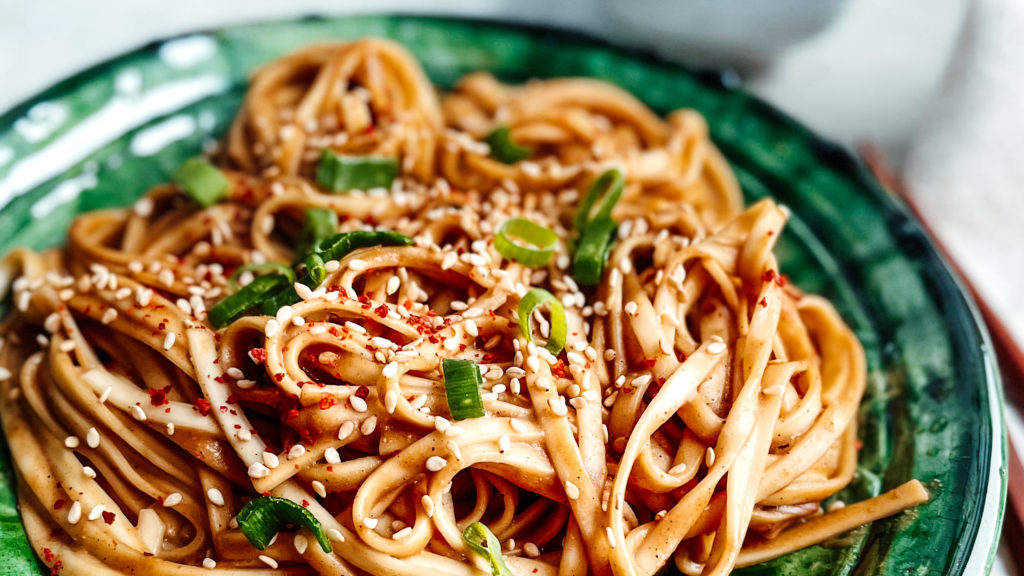 Ready in 15 minutes, vegan and soooo good!
If you like Asian food and quick vegan recipes, then here comes the perfect recipe for you. Our vegan sesame udon noodles are quick to make and can easily be expanded with your favorite vegetables.
If you do not tolerate gluten, the recipe can be easily modified: Instead of the udon noodles, simply use rice noodles and the traditional soy sauce that we use every day and that contains wheat, swap it out for a gluten-free version!
This is how the sesame udon noodles are prepared
Let's start with the ingredients. Maybe you're a little put off by the list of ingredients because you don't have rice vinegar or 5 Spices at home. Some of the ingredients are worth having a small supply at home. Especially if you also like to cook Asian food!
We cook Asian recipes several times a week, not only because of Madeleine's origins. That's why we always have certain ingredients in the pantry. This includes:
Soy sauce
We always use naturally brewed soy sauce, mostly organic. It's worth taking a look at the ingredients list, as many of the sauces sold in supermarkets contain heaps of unnecessary additives like flavorings or flavor enhancers. This is not necessary at all, since a traditional soy sauce is very flavorful even without these additives. It should only contain the following ingredients: soybeans, wheat (not for the gluten-free versions), water and salt.
Rice vinegar
It wasn't on my radar for a long time until I ate a cucumber salad made with rice vinegar. Since then I've not only used it in the sesame udon noodles, but also in a few other recipes such as the Chili oil noodles, the Chinese cucumber salad and the Five Spices noodles.
5 spices powder
This spice hasn't been on my spice rack for that long either. Only since I ate noodles with their house sauce in a Taiwanese restaurant did I get it and use it more and more often.
The composition of the 5 Spices differs from brand to brand. I bought an organic version which consists of fennel, cinnamon, star anise, pepper and cloves.
sesame oil (toasted)
It has a very specific flavor and you don't need much of it to flavor a dish. Again, it's worth looking for a organic version.
That's how the noodles are made
Now to the individual steps of the sesame udon noodles. First, the noodles are put on and cooked according to the package instructions. You can also pre-cook the noodles, add them cold to the sauce later and let them warm up in the sauce.
I used udon noodles for this recipe, feel free to use any other type of noodle! If you can't or don't want to eat gluten, rice noodles are perfect! I like to use brown whole grain rice noodles as an alternative and add a little more water to the sauce since the rice noodles absorb the sauce a little more. Mie noodles also work great in this dish.
While the noodles are cooking, thinly slice the spring onions and sauté in a little neutral oil over medium-high heat. I prefer to use rapeseed oil, which is suitable for frying.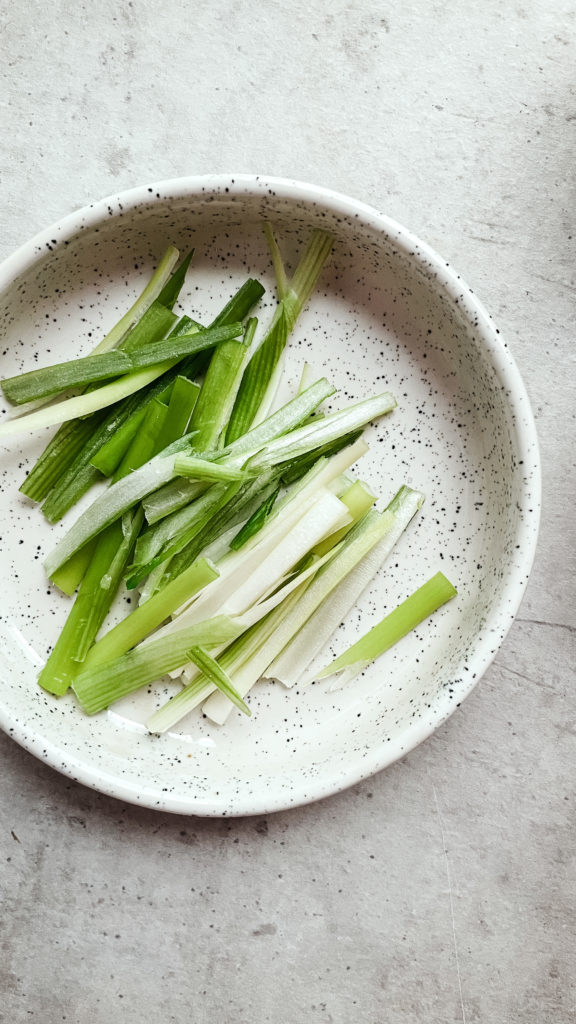 Let's continue with the sauce for the sesame udon noodles. To do this, mix the tahini, chili, 5 spices, sugar, sesame oil, rice vinegar and soy sauce in a small bowl. Then add 6 tablespoons of warm water and stir everything until smooth. If you are cooking the noodles, discard the 6 tablespoons of the noodles' cooking water.
Depending on which tahini you use, it may take a little longer until it is smooth and doesn't look crumbly.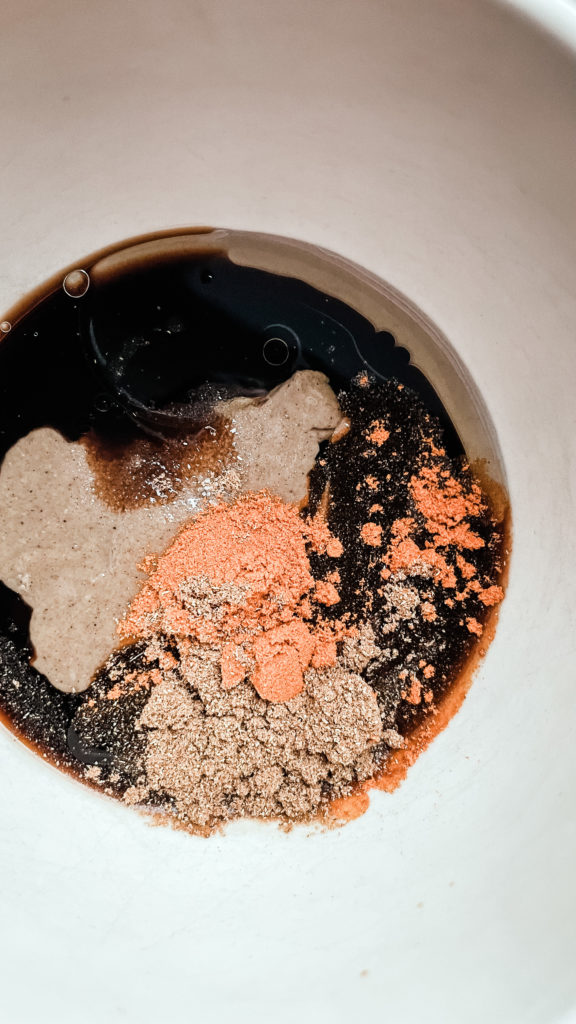 The sauce is now added to the spring onions and is only briefly boiled up. Finally, add the noodles to the sauce, mix well, divide between two plates and top with some sesame seeds. If you want the sesame udon noodles to be a little spicier, chili flakes are also perfect on top!
A little hint
You can perfectly upgrade the sesame udon noodles with vegetables. Edamame or broccoli, for example, go great with it! If you add vegetables, a little more liquid may be needed in the sauce. Simply add 1-2 tablespoons of water and some soy sauce.
Print Recipe
Quick sesame udon noodles
Ingredients
250

g

udon noodles

2

scallions

1

tbsp

neutral oil

2

tbsp

Tahin

1

tsp

chilli

1

tsp

five spices seasoning

1

tsp

sugar

1

tbsp

sesame oil

2

tbsp

rice vinegar

2

tbsp

soy sauce

2

tsp

sesame
Instructions
Cook the noodles according to package directions.

In the meantime, cut the spring onions into fine wedges and sauté them in a pan in the neutral oil over medium heat for 3-4 minutes.

For the sauce, combine the following in a small bowl: tahini, chili, 5 spices, sugar, sesame oil, rice vinegar, and soy sauce. Add 6 tablespoons of warm water (the cooking water from the noodles is perfect) and stir everything into a smooth sauce.

Add the sauce to the spring onions in the pan and bring to a boil.

Finally, add the udon noodles to the sauce and mix well. You can also pre-cook the noodles and add them to the sauce while they are cold, then leave the pan on the stovetop until the noodles have warmed up in the sauce.

Sprinkle each serving with a teaspoon of sesame seeds and serve!