Quick, aromatic recipe for after work
Today we will show you a super exciting dish that I discovered on vacation. Vegan Five Spices Noodles are aromatic, a great change on your plate and they are quick to make too!
When I recently ordered a noodle dish from a Taiwanese restaurant while on vacation, I couldn't place the flavors. It tasted like spices that I don't normally use. After asking what the sauce is seasoned with, I was told it was star anise and a Five Spices spice.
It took me several attempts at home to get the sauce similar, but in the end it worked out well and we want to share the recipe with you directly! It's a really quick vegan recipe that can also be prepared well in advance.
How to cook vegan five spices noodles
You probably already have many of the ingredients for this dish at home. I only had to buy star anise and the Five Spices spice. You might not have rice vinegar at home either. You can find it in Asian shops, but some drugstores now also have it in their organic range. We use it in some recipes, like the cucumber salad or the chili oil noodles. If you have white balsamic vinegar at home, you can use it in place of the rice vinegar.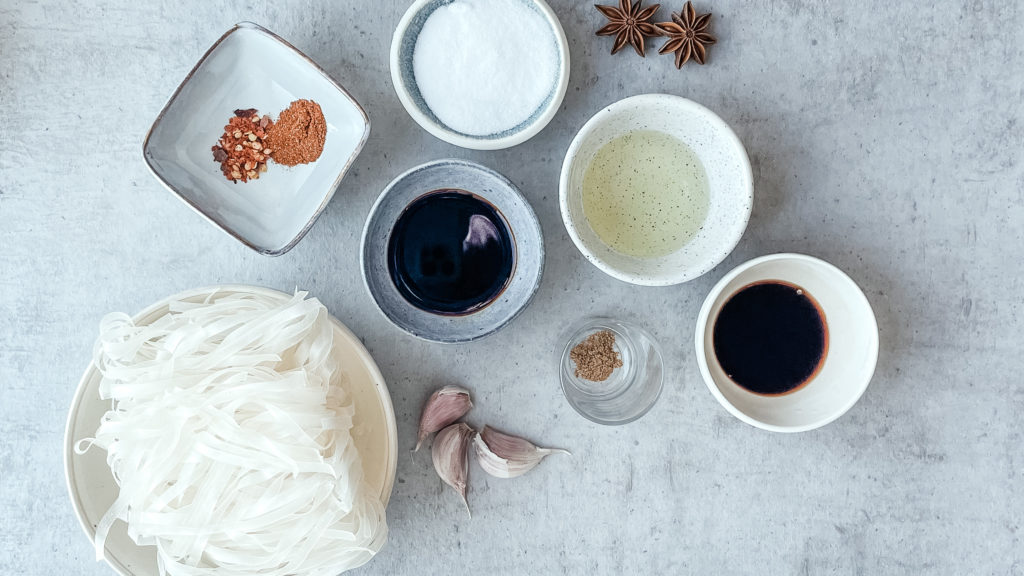 You can find the Five Spices in organic markets or Asian shops. Of course there are different compositions of the spice. We used one made with cinnamon, fennel, star anise, pepper and clove.
Making the sauce is easy! You put all the ingredients in a pot and bring them to a boil. Then you let everything simmer slowly over low heat so that all the aromas can unfold and the sauce gets its specific taste.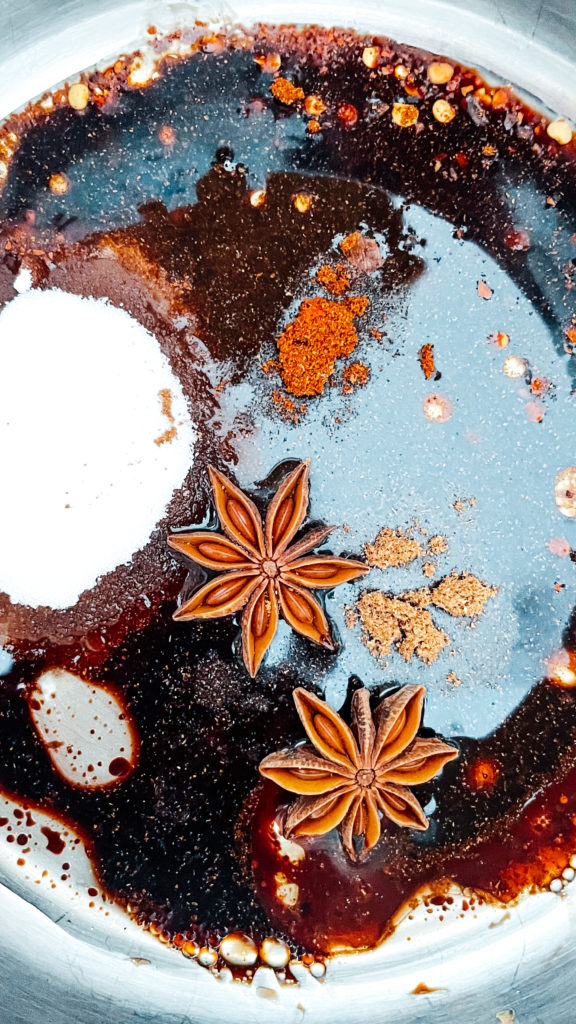 You can prepare vegan Five Spices noodles with rice noodles, but many other types of noodles also go great with it! If you're on a gluten-free diet, rice noodles are a perfect choice.
The noodles are cooked according to the packet instructions, added to the warm sauce and mixed well. Do you have small leftover vegetables? Add them to the noodles and top them with spring onions!
A little hint
The sauce for your five spices noodles gets even better if you boil it and let it sit for a few hours. Just before serving, you just warm them up, cook the rice noodles and mix the hot noodles with the warmed up sauce. The dish is perfect if you have visitors and want to partially prepare the food so as not to rush when your guests are there.
Five spices noodles
Ingredients
4

tbsp

neutral oil

4

tbsp

soy sauce

2

tbsp

rice vinegar

2

tbsp

sugar

2

star anise

(whole)

¼

tsp

Five Spices seasoning

½

tsp

paprika powder

(noble sweet)

½

tsp

chilli flakes

3

cloves

of garlic

200

g

rice noodles
Instructions
Put the oil, soy sauce, rice vinegar, sugar, star anise, Five Spices, paprika powder and chili in a saucepan (it should be big enough to hold the rice noodles later). Add 5 tablespoons of water and bring the sauce to a boil over medium heat.

In the meantime, peel the garlic cloves and grate them finely using a grater and add to the other ingredients.

Once the sauce is boiling, turn the heat down and simmer gently for 10 minutes. Stir constantly.

It is best to prepare the sauce in advance and let it sit for 2-3 hours after cooking. If you're in a hurry, that's no problem either and you can prepare the rice noodles straight away.

Cook the rice noodles according to the instructions on the packet and drain. If you pre-cooked the sauce, reheat it.

Take the star anise out of the sauce and add the hot rice noodles to the pot, mix everything well and the base is ready!

We like to top the noodles with edamame, broccoli and spring onions. But even if you don't have any vegetables at home, they taste great just with the sauce, too.