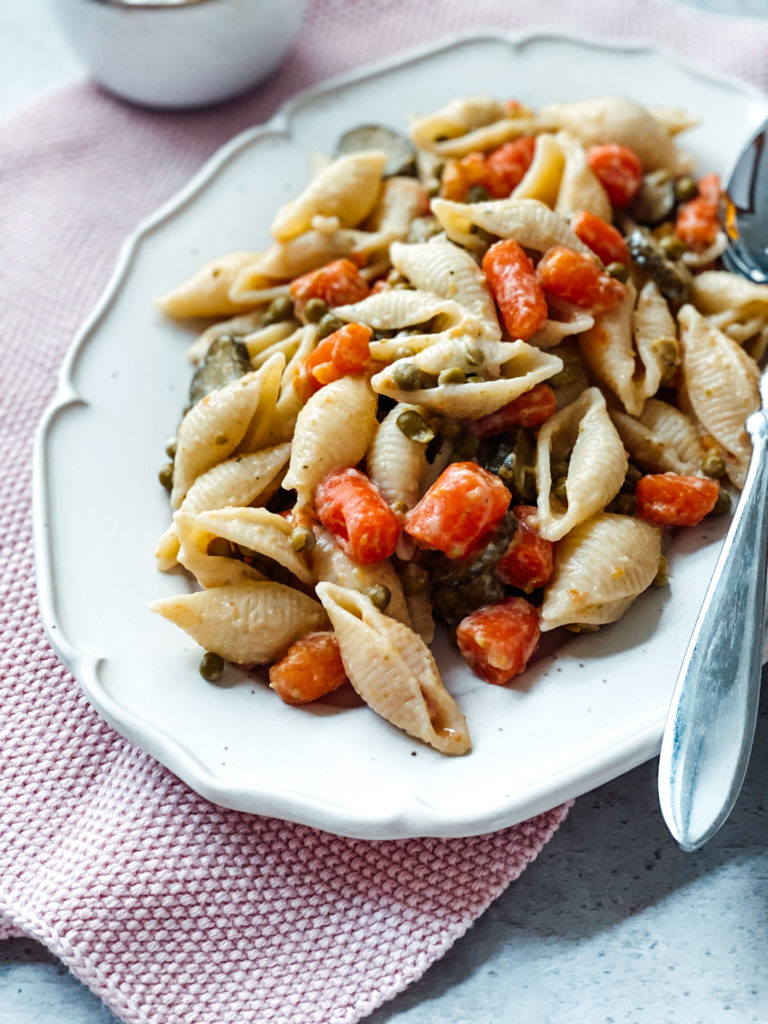 The traditional granny style pasta salad from our childhood
For grilling, but also occasionally for lunch, we often had this delicious pasta salad with a creamy sauce and the typical canned peas and carrots. The sauce often consisted of a mountain of mayonnaise and, for many, diced meat sausage also belonged in it. Our vegan pasta salad will of course be modified a bit, but we're sure you'll like it!
In Grandma's version, we particularly liked the gherkins and the carrots from the jar that you nibbled on during the preparation. They were so soft and sweet. Today, of course, we're not big fans of the large amount of mayo in Grandma's recipe. In any case, it should at least be vegan mayonnaise 🙂 .
Today we show you a simple recipe without a lot of frills and prepared in the time it takes to cook the pasta. So that you can mix the hot pasta directly with the dressing for the vegan pasta salad like grandma used to make. This is the best way for the noodles to absorb the taste.
In our version we didn't use vegan sausage. We just don't miss it that much. Also, we haven't found any that we really liked. But if you've found one that suits your taste, you can of course just add it to the salad.
Print Recipe
Vegan pasta salad
Ingredients
250

g

of pasta

1

jar of peas and carrots

(approx. 500g drained)

125

g

pickled cucumbers

40

ml

cucumber water

1

tsp

mustard

1.5

tsp

broth powder

120

g

soy yoghurt

1

tsp

vegan mayonnaise

salt

(to taste)

pepper

(to taste)
Instructions
Cook the noodles according to package directions.

Drain the peas and carrots and cut the carrots into bite-sized pieces. Put aside.

Take the pickles out of the jar and cut into slices.

Pour a good 40 ml of cucumber water out of the glass and have it ready.

Now mix the sauce. In a small bowl, mix the cucumber water with the mustard, stock powder, soy yoghurt and some mayonnaise. The sauce should be very strong in taste, so taste good and rather too salty. A little more pickle water can help for more acidity, but mustard also works well here, the taste is distributed so that it will end up being significantly less salty and spicy than the sauce.

Add salt and pepper to taste. If in doubt, you can always add more seasoning later. But then the taste is more difficult to distribute.

Place the peas and carrots in a large bowl along with the slices of pickles. Put the hot and well drained pasta directly into the bowl and mix with the sauce and the other ingredients while still hot.

Mix everything carefully and leave to infuse. It looks like too much sauce at first, but this will be soaked up by the steaming pasta and won't show up later.

Let cool for about 2 hours and enjoy!
Notes
If you like, you can also add about 150g vegan sausage cut into fine cubes.
Don't feel like cold pasta right now? How about a simple one pot meal? Our Mushroom One Pot is a great thing that can be prepared quickly with minimal effort and maximum taste. If you want a salad that is a little lighter and fresher, you should try our corn avocado salad!