Today we have a recipe for you that is sure to make you happy!
– Provided you like avocado and corn!
Today's recipe isn't just a corn avocado salad!
Due to the different ingredients, we get different consistencies in our salad, which make the whole thing even more exciting in the mouth.
And if you think, "Salad won't fill you up!" or "How am I supposed to get my protein?" you don't have to worry about the combination of chickpeas and corn.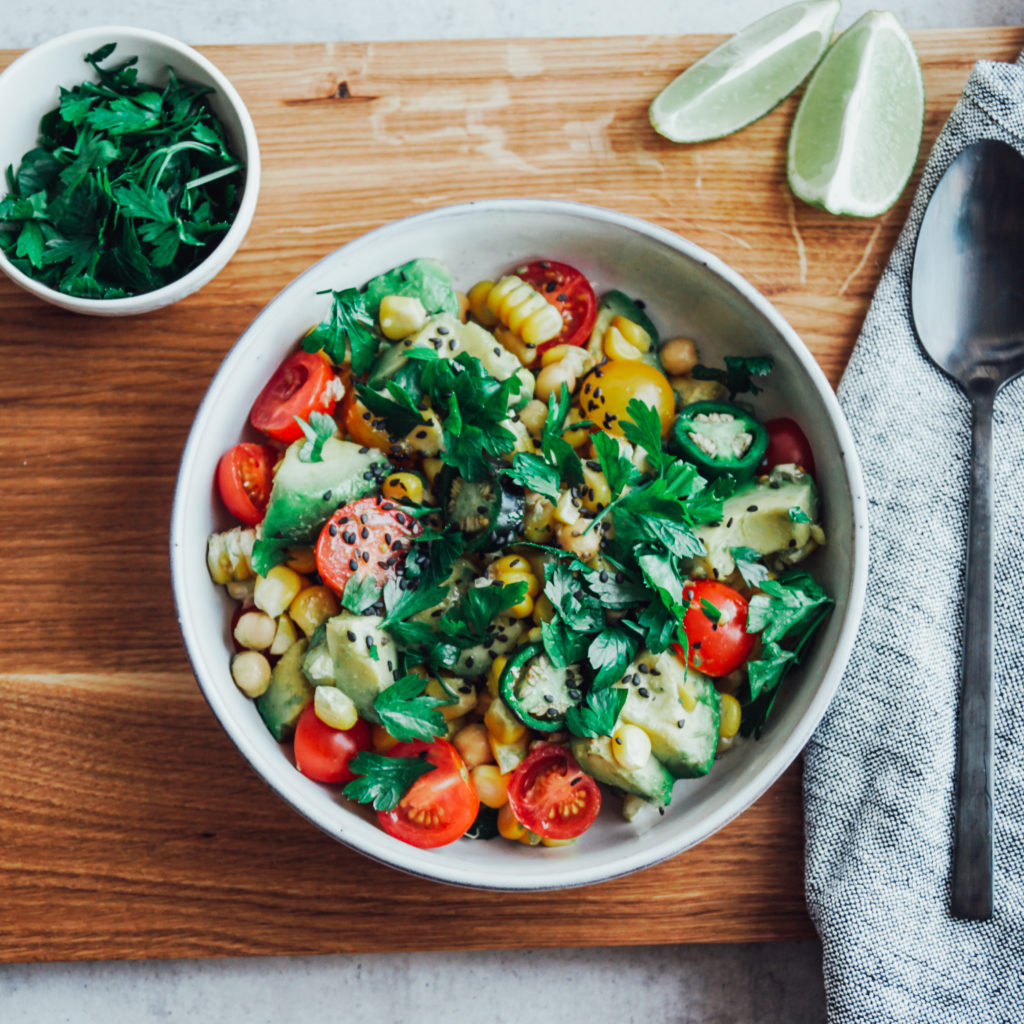 The fats from avocado and olive oil, paired with the vitamins from corn, lime and tomatoes, improve the absorption of the fat-soluble vitamins. And the different flavors of lime, olive oil and mustard bring a great, round taste.
If you don't have a corn on the cob at hand or don't feel like cutting down the corn kernels from the cob, you can of course also use the corn from the jar. We always make sure to take the organic version.
The black sesame is very rich in iron and in terms of nutrients is simply the icing on the cake.
Print Recipe
Corn Avocado Salad
Ingredients
1

cooked corn on the cob

(alternatively 1 glass of corn)

2

avocados

100

g

cherry tomatoes

100

g

chickpeas

1

green chilli

1

lime

(juice of it)

parsely

1

tsp

mustard

1

tbsp

maple syrup

3

tbsp

olive oil

½

tsp

salt

black sesame

(optional)
Instructions
Cut the corn kernels from the cooked corn on the cob. Peel the avocados and cut them into pieces.

Halve the cherry tomatoes, slice the chilli and chop the parsley.

Mix the corn, chickpeas, tomatoes, avocado and chilli in a bowl.

For the dressing, stir together the juice of the lime, mustard, maple syrup, olive oil and salt in a small bowl.

Add the dressing to the salad and sprinkle with chopped parsley and black sesame seeds.