Sometimes you need a bit of variety on the breakfast table.
Porridge, overnight oats and Co. are really delicious and nutritious,
We are also happy to have something hearty for breakfast.
Therefore, today we will show you how you can conjure up a delicious bean spread for sandwiches, toast and Co. in no time at all.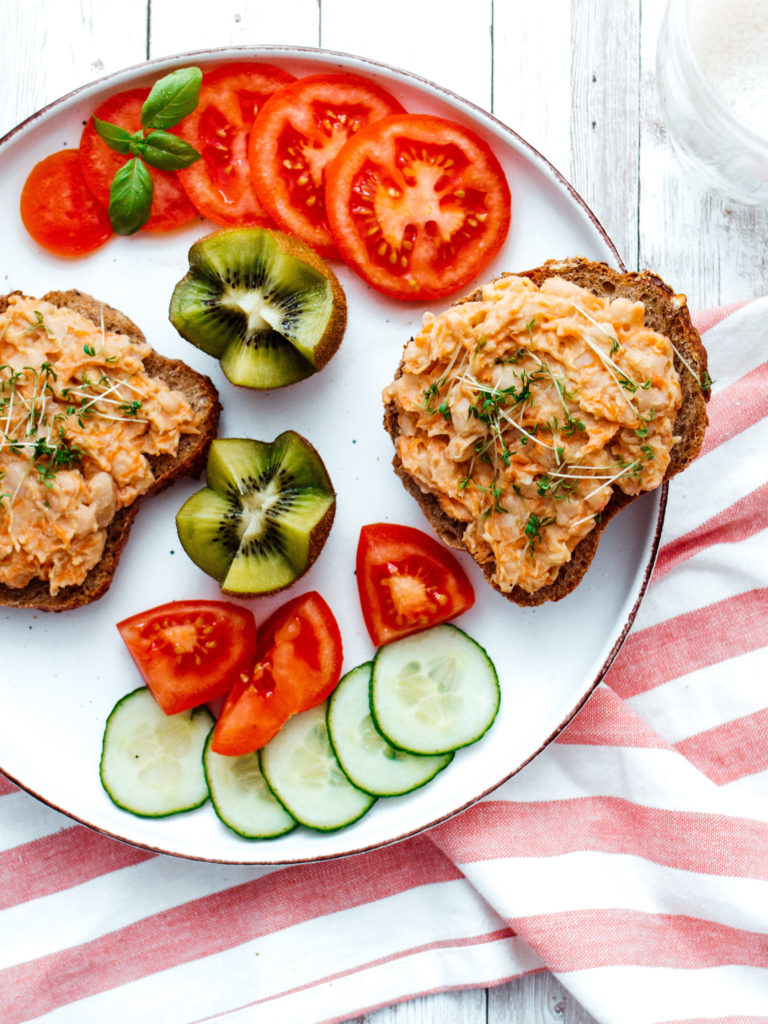 Our bean spread is also a delicious alternative to bought spreads and vegan cheese alternatives for brunch.
This spread with the beans, which form the basis of the spread, offers a plus in vegetable protein.
Together with carrots and a touch of fresh celery, they make a perfect hearty combination for your slice of bread or sandwich.
Cashew butter supports the creaminess and the lemon adds some depth to our delicious bean spread.
The best thing is that you do not need a mixer or other heavy equipment!
Simply with the help of a flat bowl and a fork you get the right consistency for your new favorite spread!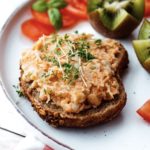 Print Recipe
Bean spread
Ingredients
255

g

drained weight of white beans from the jar or cooked

20

g

carrots

20

g

celery stick

(approx. 1 stick)

1

clove

of garlic

(alternatively ¼ teaspoon garlic powder)

1

tsp

cashew butter

3

tsp

of oat drink

2

tsp

of lemon juice

½

tsp

mustard

salt

pepper
Instructions
Drain the beans and rinse with water before placing them in a bowl.

Peel the carrot and grate it finely. Finely grate the celery stalk as well. The shell does not have to be removed beforehand.

Now add the finely grated carrot and the also grated celery stalk to the beans. As a result, the celery blends in perfectly with the spread and is not perceived as intensely.

Peel the garlic clove and dice it finely or press it through the garlic press. Also add to the bowl.

Now add cashew butter, oat drink (or another unsweetened plant-based drink), as well as lemon juice and mustard.

All ingredients are now mixed in the bowl and the beans are mashed with a fork. This gives the spread a creamy consistency and the flavors of the ingredients combine well with each other.

Finally, season to taste with salt, pepper and lemon juice.

Depending on the desired consistency, a little more plant-based drink can also be added.
Notes
By mashing it with a fork, you can determine how chunky or creamy you want the spread to be.