Prepared quickly and without any complicated ingredients
Everyone has their own feel-good dishes that you always look forward to. And for me, our vegan chickpea curry is just such a dish. And since it's also quick to prepare and only needs a few ingredients, you basically can't say no!
The flavors are so spicy and pleasant – if you don't add too much chili – and it just kind of makes you happy. Most people have canned chickpeas at home anyway. Of course, the dried version is also great for this dish. Then all you have to do is schedule it the day before and soak and pre-cook the chickpeas.
If you combine the chickpea curry with rice or potatoes, the recipe is gluten-free and therefore perfect for you if you have to or want to do without gluten.
This is how the vegan chickpea curry is prepared
I often make the curry when I haven't managed to go shopping anymore. Because it consists of ingredients that I always have at home anyway. I always have chickpeas and pieces of tomato and I usually have a can of coconut milk ready.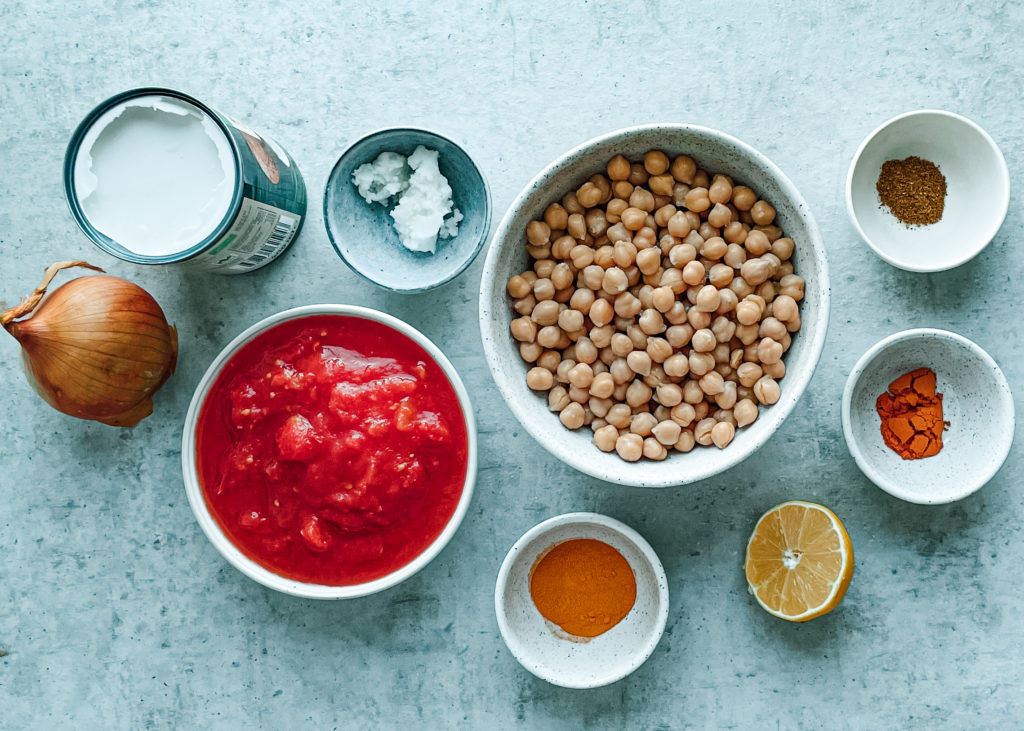 I always have a small selection of spices in the kitchen, which I always have on hand because I use them regularly. This includes
turmeric
ground cumin and
chili powder.
We like to use turmeric for golden milk or our potato curry. We use chilli powder in so many dishes that we have to regularly replenish our supplies. If you also have a well-stocked spice rack, you probably won't have to buy new spices for our chickpea curry!
We roast the spices together with the chopped onion in the heated coconut oil so that the aromas develop better.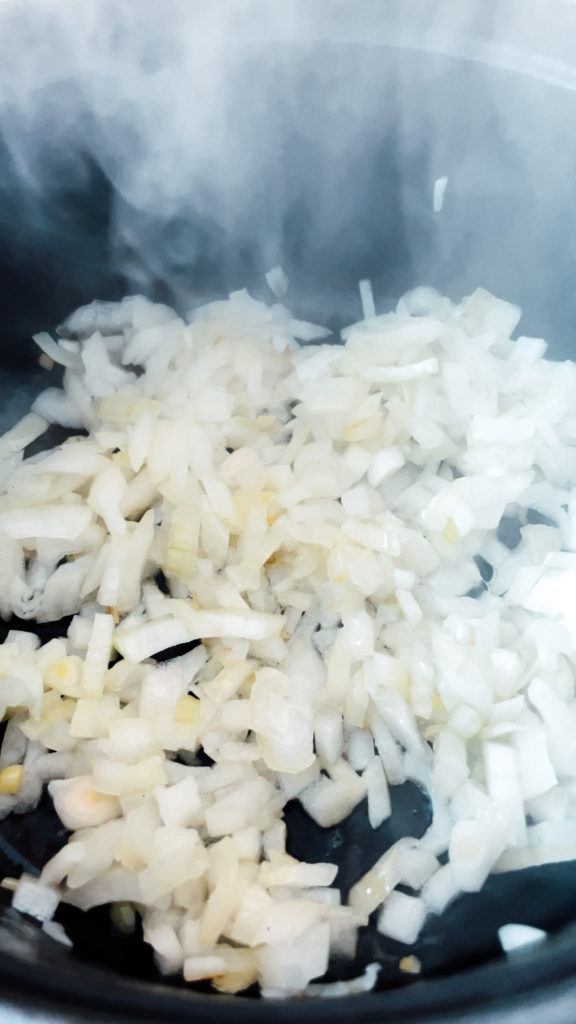 Then we add the cooked chickpeas, tomatoes and coconut milk and the whole thing simmers for 15 minutes. Finally, we add the fresh lemon juice and salt the curry. However, the spices make it so flavorful that you can easily do without salt!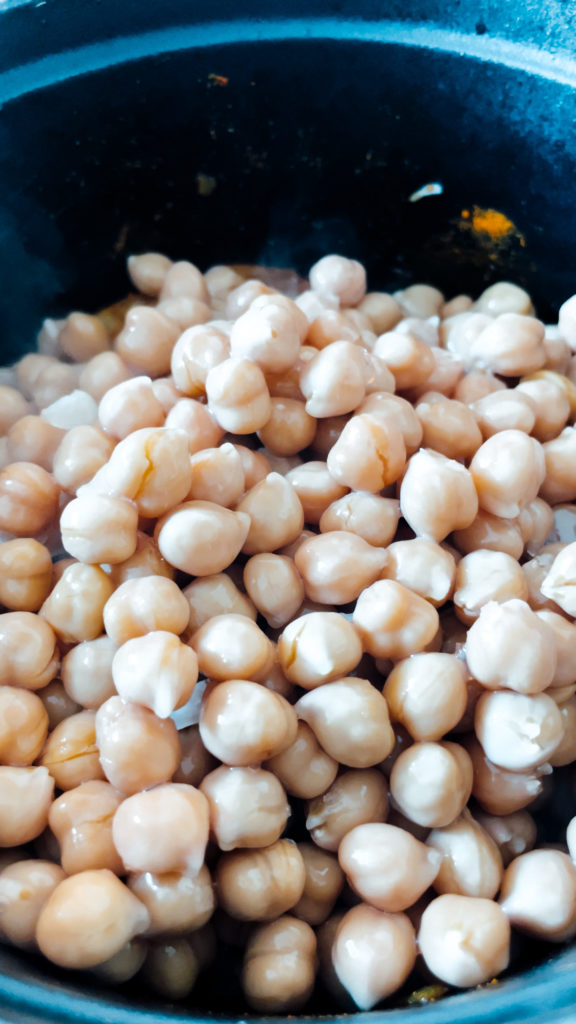 The vegan chickpea curry tastes just as good warmed up as it does right after cooking. So you can easily prepare it when you have visitors or take it to work the next day.
A little hint
If you still have small leftover vegetables in the fridge, you can use them perfectly in the vegan chickpea curry. If you want to use leftover cooked vegetables, simply add them to the curry just before the end of cooking to heat them up.
Print Recipe
Vegan chickpea curry
Ingredients
1

onion ⁠

1

tbsp

coconut oil⁠

2

tsp

turmeric ⁠

1

tsp

ground cumin⁠

1

tsp

chili powder ⁠

2

cans of chickpeas⁠

1

can of tomato pieces ⁠

1

can of coconut milk ⁠

1/2

lemon ⁠

(juice of it)

salt ⁠
Instructions
Peel the onion and chop finely.

Fry the onion in coconut oil. After 3-4 minutes add turmeric, cumin and chilli and roast for 1 minute. ⁠

Add the chickpeas, tomatoes and coconut milk and simmer for 15 minutes. ⁠

Finally, add salt and stir in the lemon juice. ⁠
Notes
If you still have smaller vegetable scraps, you can combine them perfectly with some rice to make the curry! ⁠