Creamy risotto with pumpkin
Oh, you lovely pumpkin season!
We can't get enough of pumpkin dishes in the fall. That's why meanwhile we have already published some of them.
If you are looking for a crunchy pumpkin salad, have a look here.
Of course, one thing shouldn't be missing in our autumn recipe collection: Vegan pumpkin risotto!
The Italian classic is always right and so beautifully variable. In addition to mushrooms (you can already find a mushroom risotto under our main dishes), you can make a herb risotto, a vegetable risotto, a risotto with dried tomatoes and walnuts and much more. Just let yourself be inspired by our recipe and feel free to share your experiences on Instagram or in the comments here.
This is how you make your perfect vegan pumpkin risotto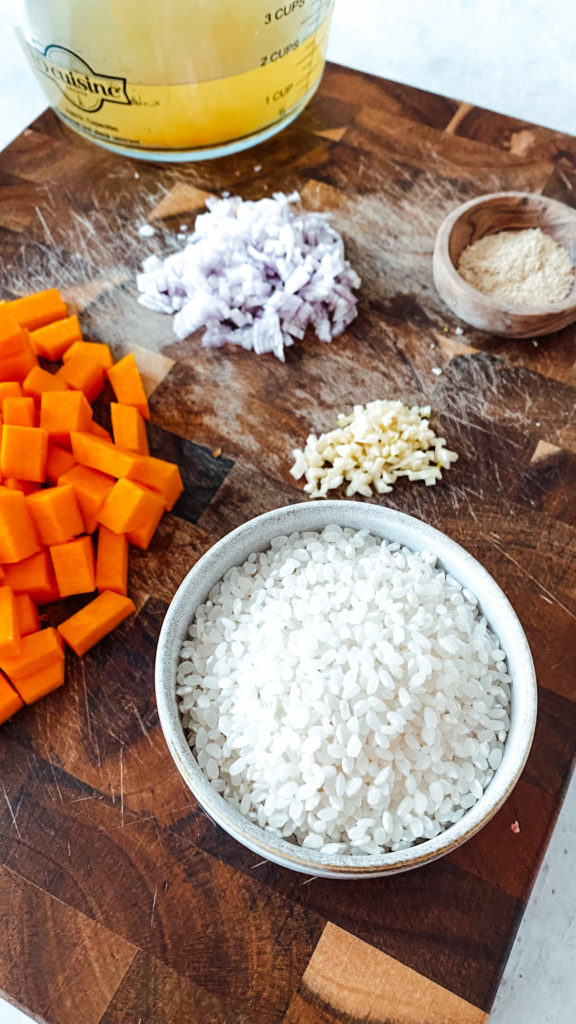 You can prepare a simple vegan pumpkin risotto with just a few basic ingredients. The rice is particularly important, but so is a strong and, above all, hot vegetable broth! First, the onion and garlic must be peeled and finely diced. Then they are steamed in a pot until translucent. Then the risotto rice is added, which also needs to be roasted briefly.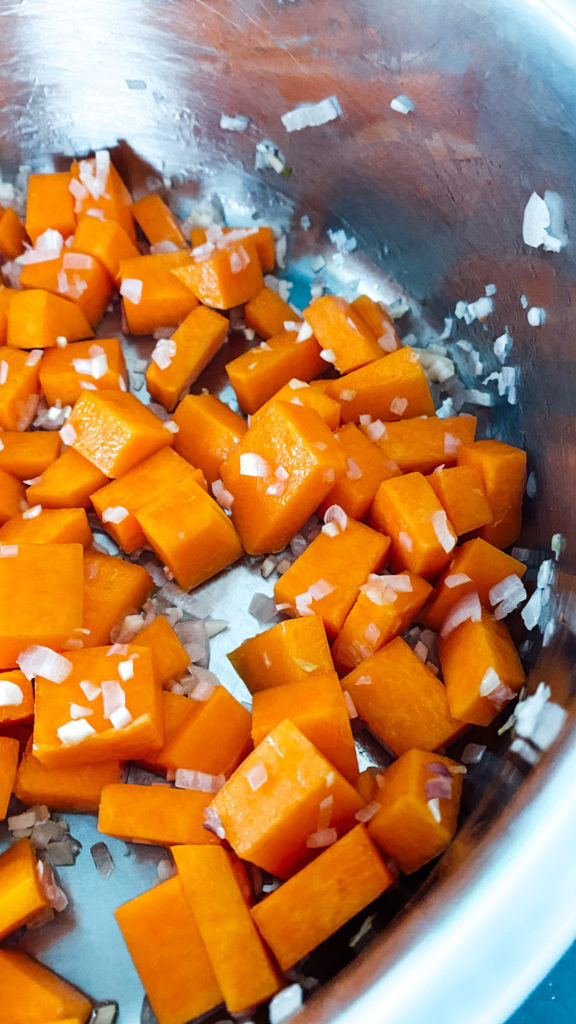 If the rice could be steamed briefly, it is deglazed with white wine or hot vegetable broth. The risotto should now simmer for a few minutes. stir every now and then. When the broth or wine is almost gone, add another good dash of vegetable stock and repeat until the rice is done. The spices are added just before it is completely cooked. To taste it's yeast flakes, but definitely cinnamon and a little fresh, finely grated ginger. This combination provides your vegan pumpkin risotto with a great aroma!
At the very end, remove the pot from the heat and add some vegan butter. The butter melts in the pot and is only briefly stirred in at the end.
Tips for a creamy vegan pumpkin risotto
A good risotto should be "sloppy" or creamy. You have to pay attention to a few things and you will then be rewarded with a wonderful rice dish. You don't have to resort to animal products for this, but you don't have to resort to expensive alternative products either. Here are a few tips for your perfect vegan pumpkin risotto:
The right rice! In any case, use short-grain rice. You can use a bit more expensive risotto rice for this, but plain rice for rice pudding or sushi also works great!
The broth for deglazing should be hot! Cold broth interrupts the cooking process and prevents the al dente and at the same time creamy consistency from forming.
The pumpkin gives the risotto flavor but also helps the risotto to become a little creamier. Depending on how big you cut the pumpkin pieces, it will cook faster and will dissolve a little when you stir it. This makes the risotto a bit orange and creamy at the same time. If you want to support this, you can keep the pumpkin pieces smaller or crush the soft pumpkin pieces while stirring.
Another tip for creamy or sloppy vegan pumpkin risotto is to add some vegetable butter at the end of the cooking time and to melt in the hot rice. The rice should already be cooked and seasoned. Then add the butter and remove the pot from the stove.
Print Recipe
Vegan pumpkin risotto
Ingredients
1

onion

1

clove

of garlic

400

g

pumpkin

80

ml

white wine

2

tbsp

oil

350

g

risotto rice

1

l

vegetable stock

(hot)

1/8

TL

cinnamon

1

pinch

freshly grated ginger

(alternatively powder)

some

yeast flakes

(optional)

some

parsley

salt

2

tbsp

vegetable butter

(cold)

4

tbsp

creme vega
Instructions
Peel onion and garlic and chop finely.

Peel the pumpkin if necessary (not necessary in Hokkaido) and then cut into thin wedges.

Sauté the onion, garlic and pumpkin in a saucepan with oil.

Now add the rice to the pan and roast it for 1-2 minutes.

Then deglaze with the white wine and let it boil down until it has almost completely evaporated.

Now deglaze with a little of the very warm broth (always about 100-150ml) and simmer again. Repeat this until the rice is cooked through.

Just before the rice is really soft, season with salt, cinnamon together with fresh ginger and if you like, yeast flakes.

For a little more creaminess, stir in the butter and remove the rice from the stove so that it doesn't continue to cook.

If it isn't creamy enough, you can add some vegan creme fraiche.

Arrange on plates and serve sprinkled with drips of creme fraiche and some parsley. Delicious!
Notes
If children eat, the white wine can be replaced with more broth and a little lemon juice. The acid enhances the taste and the risotto gets a round aroma.