No parmesan but so tasty!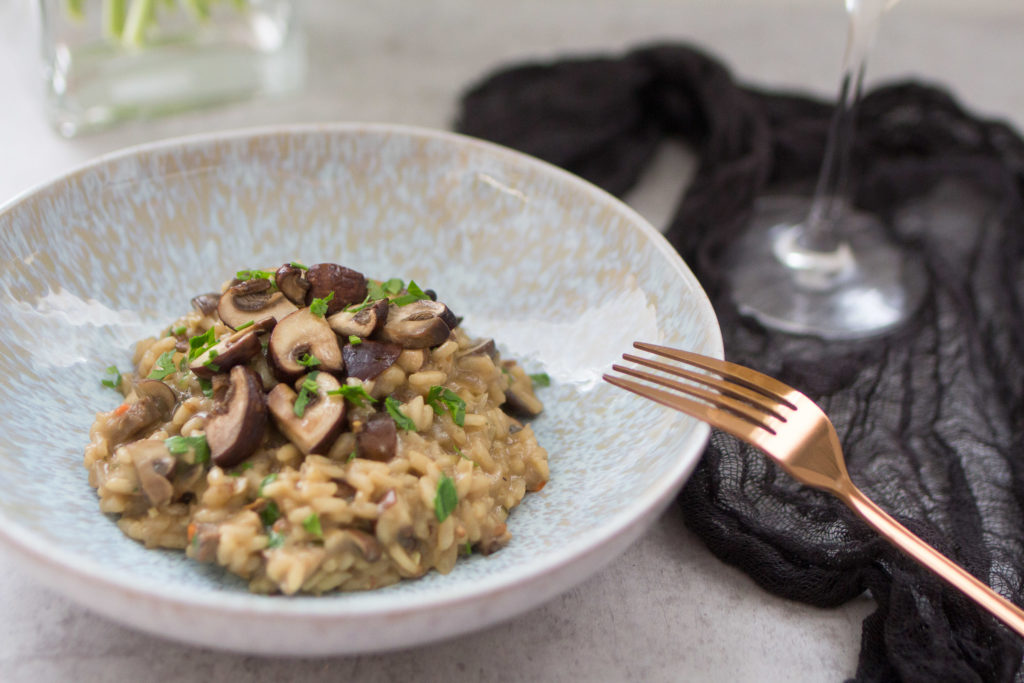 We dare to approach a real classic of Italian cuisine: (vegan) mushroom risotto!
And what can we say: it's just worth every effort!
A good risotto has a "sloppy" consistency that you can only achieve with a few tricks in the preparation like in a good Italian restaurant.
You can also make the risotto with just mushrooms. But I think our vegan mushroom risotto needs a strong mushroom aroma, which can be brought out particularly well with the dried porcini mushrooms. But of course you can also use various other mushrooms for a vegan mushroom risotto.
Tips for a good vegan mushroom risotto:
First sauté the rice together with the onions and garlic in a little good olive oil until translucent
The broth for pouring and cooking the risotto must be hot! It doesn't have to be boiling, but it mustn't be cold! Otherwise the cooking process will be interrupted and the rice will no longer have that nice al dente but creamy consistency.
A slight acidity gives the risotto depth of flavor. Therefore, white wine is usually used to deglaze. You can also use lemon juice to taste at the end.
The broth should always be added gradually. In between, the rice should always be stirred diligently. When the liquid has almost completely evaporated, the next broth should be added. This ensures the binding and the creamy consistency.
Finally, we support the creaminess by adding a stick of vegan butter. The risotto should now rest for a few minutes. Alternatively, you can also add vegan Parmesan. Then you can also do without the yeast flakes in the recipe.
If you feel like trying a risotto right now, we have a pumpkin risotto for you that will surely taste good too. -At least if you like pumpkin;-)
Print Recipe
Vegan Mushroom Risotto
Ingredients
1

onion

1

clove

garlic

5

g

dried porcini mushrooms

80

ml

water

(warm)

1

tbsp

oil

125

g

risotto rice

400

ml

vegetable broth

(hot)

70

ml

white wine

250

g

mushrooms

1

tbsp

plant-based butter

(cold)

nutritional yeast

(optional)

salt, pepper

parsley
Instructions
Peel onion and garlic and chop finely.

Halve the mushrooms and then cut them into slightly thicker slices. Put aside.

Put the 80ml warm water (doesn't have to boil) in a small bowl and soak the dried porcini mushrooms in it.

Sauté the onion and garlic in a saucepan with oil until translucent.

Now add the rice to the pot and roast for 1-2 minutes.

Then deglaze with the white wine and let it boil down until it has almost completely evaporated.

Now deglaze with some of the hot broth (always about 100-150ml) and let it simmer again. Repeat this until the rice is cooked through. In between, stir in the softening water of the porcini mushrooms and let it boil down.

After soaking and draining the porcini mushrooms, finely chop them. These can then be put into the pot aswell.

When the rice has cooked for about 15 minutes, the remaining mushrooms can also be added.

Just before the rice is really soft, season with salt, pepper and, if you like, yeast flakes.

For a little more creaminess, stir in the butter and remove the rice from the stove so that it does not continue to cook. Let set for a few minutes.

Arrange on plates and serve sprinkled with parsley. Enjoy!