Delicious granola not only for the Christmas season
When it comes to breakfast, are you more team muesli or team bread?
Our speculoos granola definitely makes you want more and is not only suitable for a sweet breakfast with plant-based milk or yoghurt alternative, but also as an afternoon snack to counteract a quick hunger.
The granola with the classic Christmas taste is not only delicious at Christmas time. And with hazelnuts, cocoa nibs, oat flakes and others it has many healthy and delicious ingredients.
If you are more into buckwheat or want a more light taste, try our buckwheat granola with pecans.
This is how the speculoos granola is prepared:
Basically, it doesn't take much effort to make your own delicious and crispy granola. You can choose the sweetness practically freely. A honey alternative is often used, but agave syrup and rice or date syrup are also very suitable for this. In this case we used maple sirup to sweeten the granola.
For our speculoos granola we have used a colorful mix of good nuts and seeds. Rolled oats form the base, which we mixed with cacao nibs, sprouted sunflower seeds and white chia seeds.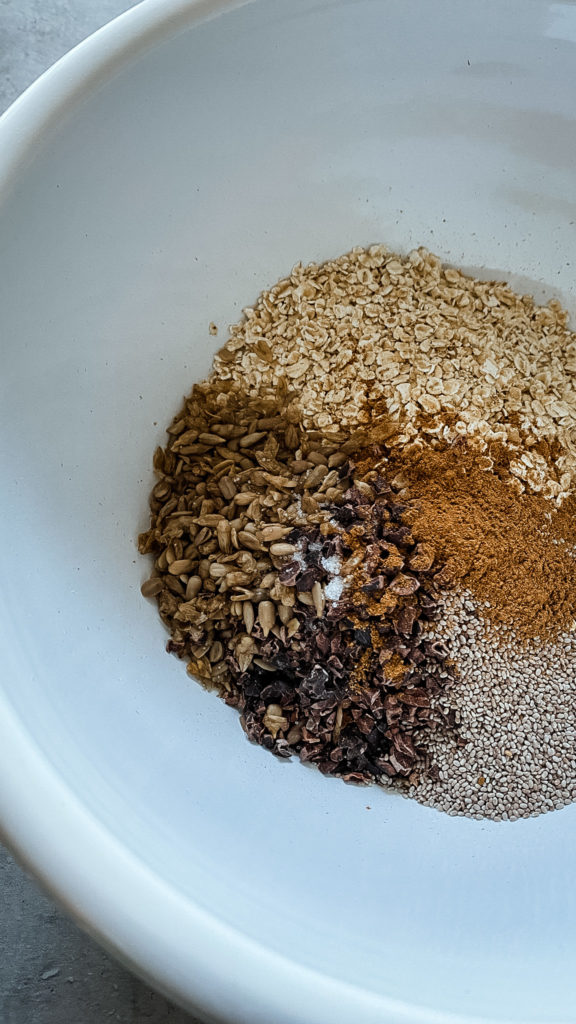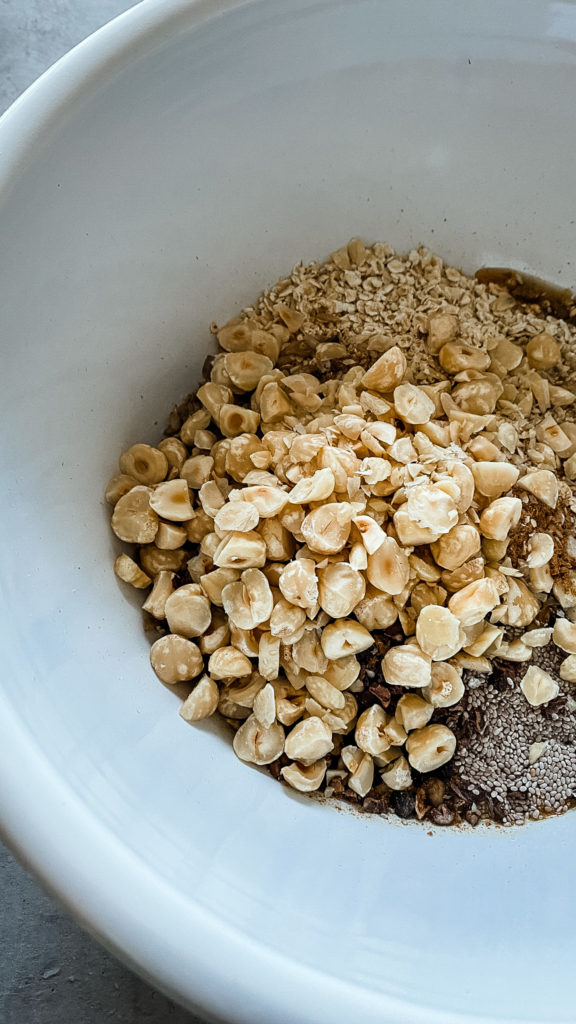 Coarsely chopped hazelnuts provide a nice bite and the speculoos spice and a little salt are used for the aroma. In order to get the granola nice and crispy, water has turned out to be a good addition to the recipe. If you are unsure whether the granola is too sweet for you, you can add a little more water. It will dry in the oven and creates a crunchy granola.
A little hint:
If you have any speculoos biscuits left over, instead of using the speculoos spice, you can crumble some of the biscuits and use them to flavor the granola. So that the speculoos granola does not become too sweet, replace some maple syrup with water. The granola mass tastes a little sweeter raw than it tastes later when baked.
Another little tip we can recommend is that you mix and match your granola with your favorite nuts and seeds and experiment. You can also live it up with the spices and add cinnamon or a bit of tonka beans, as well as vanilla to the mixture to create your preferred flavor. So you no longer need to buy granola and you can even make someone happy with a speculoos granola as a DIY gift!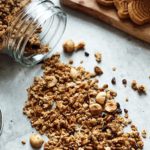 Print Recipe
Speculoos Granola
Ingredients
200

g

rolled oats⁠

20

g

cacao nibs⁠

30

g

sunflower seeds ⁠

20

g

white chia seeds⁠

70

g

whole hazelnuts⁠

(shelled)

1

tsp

speculoos spice⁠

1

pinch

of salt⁠

50

ml

oil⁠

50

ml

water⁠

100

ml

maple syrup⁠
Instructions
Preheat the oven to 180°C top/bottom heat.⁠

Mix all ingredients in a bowl. Make sure to mix the maple syrup, oil and water very evenly with the other ingredients.⁠

Put the mixture on a baking tray and put it in the preheated oven for 5 minutes.⁠

Then mix everything well on the baking sheet and turn. Place in the oven for another 5 minutes.⁠

Repeat stirring and turning. Always keep a close eye on the granola as it can burn quickly. Check every few minutes to see if it has turned golden yellow.⁠

After about 20 minutes, remove from the oven and let cool. To do this, pull the granola including the baking paper or baking mat from the baking tray to prevent it from burning on the still hot baking tray.⁠

When it's well dried, put it in an airtight container and enjoy it for breakfast or as a snack between meals!⁠