Crispy tender crescents made with marzipan
Cookies aren't a great thing at Christmas. We have vanilla crescents on our list of evergreens that we usually bake every year before the holidays. This year we wanted to give the classic vanilla crescents a twist and added delicious marzipan to the base dough. Not only does it make the cookies softer, but. also more aromatic than grandma's vanilla crescents.
Another advantage of this recipe is the really little effort you have to put really tasty cookies on the table.
No cumbersome rolling out, cutting out and finally decorating with painstaking precision work. The recipe can be implemented just as well with children, who certainly like to snack on the dough and can also get creative with shaping the crescents.
And at the end everyone is happy about the snow made of powdered sugar, which we let trickle over the marzipan crescents.
This is how vegan marzipan crescents are prepared
Basically, these marzipan crescents are a super simple recipe and with simple ingredients you get delicious, Christmas cookies.
The dough is made from flour, marzipan, powdered sugar and vegan butter.
You can make it a little easier here if you cut the butter and marzipan into small cubes. This makes it easier for you to knead together into a smooth dough.
The dough can be formed into a thick roll and left to rest in the fridge for about an hour.
You can already line the baking tray with baking paper or a baking mat and have it ready.
The roll of dough is then cut into slices and these are first formed into a ball and then into a crescent.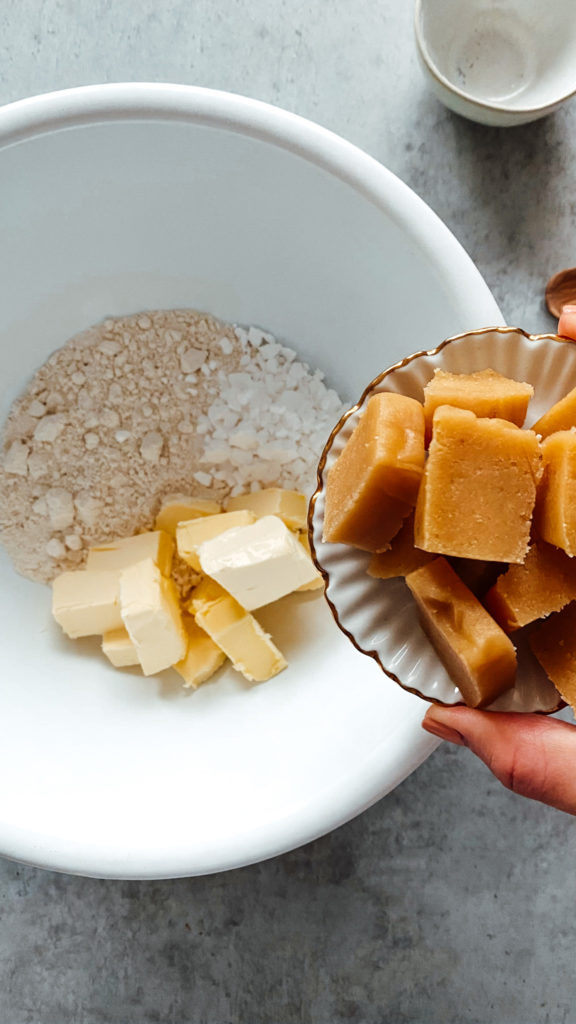 The marzipan crescents are then baked in the oven at 180° top/bottom heat until they get a light brown edge.
Finally, you can decorate them with some powdered sugar.
If they survive long enough, it's best to store them (fully cooled) in a tin can.
A little hint:
If you prefer classic vanilla crescents, you can find them under this link 😉
Print Recipe
Vegan marzipan crescents
Ingredients
150

g

of flour

100

g

vegan butter

25

g

powdered sugar

100

g

marzipan

a little more powdered sugar for sprinkling
Instructions
In a mixing bowl, knead the flour, vegan butter (ideally in small pieces), icing sugar and marzipan (also in small pieces) to form a smooth dough. Then let the dough rest for 1 hour. Then preheat the oven to 180° top/bottom heat.

Cut the dough into slices and shape them first into balls and then into croissants.

Place on the baking sheet and bake for about 10 minutes, until the bottom edges are lightly browned.

After baking, put the baking sheet on a cooling grid and use a sieve to dust the croissants with icing sugar.

Let cool completely and store in a tin can.