Simple antipasti with few ingredients
If you eat vegan, you will often be asked how you get your protein. Of course you can take the shortcut and resort to protein powders and shakes. But if you prefer minimally processed products, legumes like chickpeas, edamame, and all beans are a perfect source of protein for you.
Marinated giant beans are a great Mediterranean dish. They are super easy to make, only need a few ingredients and somehow always fit. You can enjoy them cold and put them on the table with other antipasti. Freshly baked bread is ideal. You can roast this in a pan with a little olive oil for more excellent aroma. You can find more antipasti in our blog post on the vegan antipasti platter. There are also two dips and delicious ideas for your favorite antipasti.
The marinated giant beans are also a wonderful lunchtime snack. Because the beans can withstand a few hours outside the refrigerator. So you can enjoy them with some bread on your lunch break.
This is how the giant beans are prepared
If you like it particularly cheap and have the opportunity to plan the dish, you should definitely buy your giant beans as a dry product and cook them yourself until soft after giving them time to soak. The dry product is usually much cheaper and if you're someone who plans their meals anyway, this would be a great way to save money. Of course, this also works very well with other legumes such as black beans or chickpeas. With this dish you can say with a clear conscience that vegan cuisine can be cheaper than anybody thinks!
We used the already cooked canned beans in our recipe. This also makes spontaneous preparation possible. Of course, pickled giant beans taste best if they have had the opportunity to soak for a while.
In the photos you can see how the few ingredients of the marinade are combined and mixed to form a hearty marinade. This is then only added to the giant beans and is best left to stand in a cool place for a few hours.
You can make the marinated giant beans even spicier by grating and adding a clove of garlic.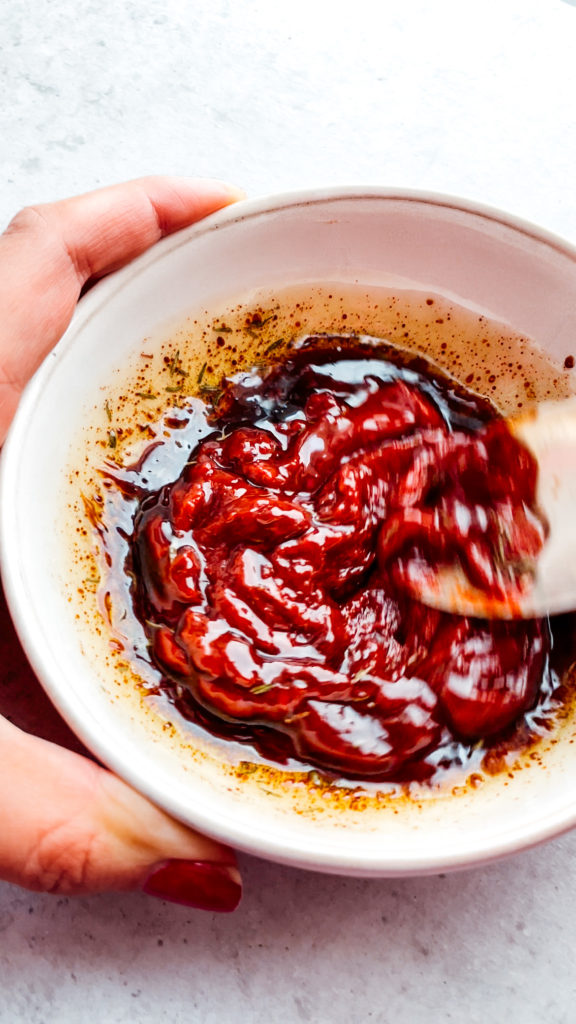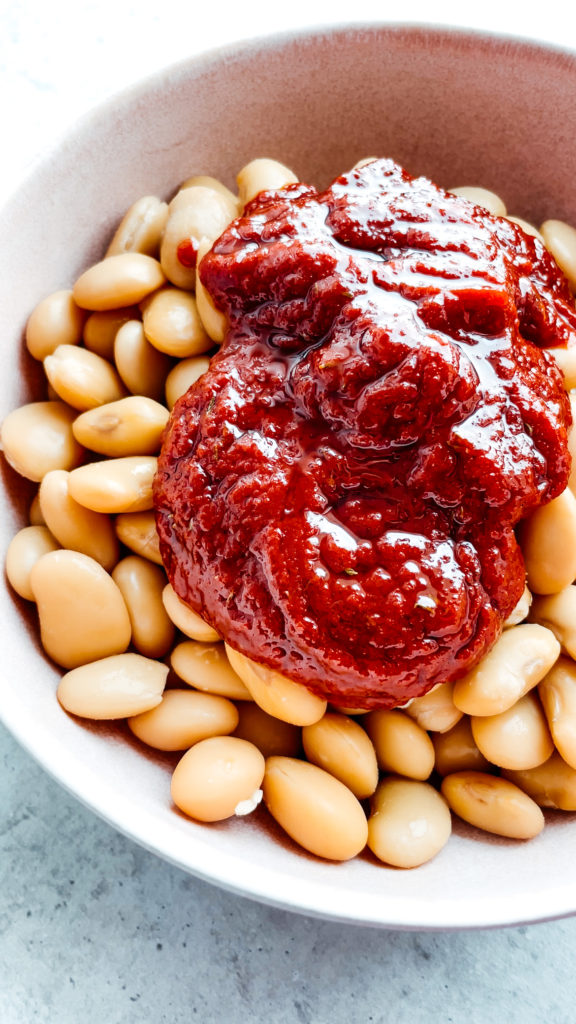 If you now feel like baking your own bread, we already have a few simple recipes for you here on the blog. The sweet potato bread is a big hit in our circle of friends, but the pumpkin bread or the onion bread are also super tasty and worth a try.
Print Recipe
Marinated giant beans
Ingredients
500

g

cooked giant beans

2

tbsp

tomato paste

3

tbsp

olive oil

1

tbsp

maple syrup

alternatively agave syrup

2

tbsp

soy sauce

1

tsp

dried thyme

3-4

sprigs of flat-leaf parsley
Instructions
In a bowl, whisk together the tomato paste, olive oil, maple syrup, soy sauce, and dried thyme until smooth.

Add the giant beans and stir well.

Roughly chop the parsley and mix with the beans.