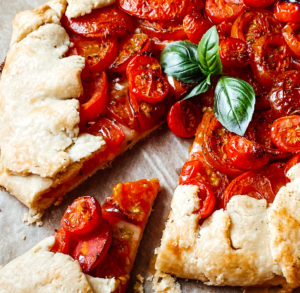 Mediterranean flavors on a delicately crunchy dough. This is our tomato galette!
A simple seasoning oil with garlic and basil is put together for the topping of the simple shortcrust pastry.
In combination with the fresh tomatoes, this ensures a great, Mediterranean flavor.
You can also use slightly softer, richer tomatoes for this recipe. They have great taste. However, depending on the type of tomatoes, it is best not to put the most watery parts of the tomatoes on the galette. This way the dough won't soak and will be easier to cut and eat later.
Sometimes there are tomatoes with a special look. These also do very well on the galette. You can use simple vine tomatoes, but a mixture of different tomato varieties such as cherry tomatoes also look good on the tomato galette.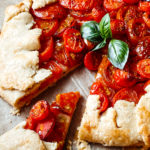 Print Recipe
Tomato Galette
Ingredients
Shortcrust pastry:
230

g

of flour

130

g

vegan butter

8

g

of salt

2-3

tbsp

water
topping:
600

g

of tomatoes

1

clove

of garlic

1

handful of basil

4

tbsp

olive oil

¼

tsp

chilli flakes

¾

tsp

salt

pepper

(to taste)

½

tsp

oregano

2

tbsp

plant drink
Instructions
Knead a smooth dough from flour, vegan butter and salt. Rub the butter between your fingers and mix with the flour. Add some cold water if needed.

Cover and place the smooth dough in the fridge for about 30 minutes.

In the meantime, wash the tomatoes and cut into 1cm thick slices. Remove the stalks.

Peel and finely chop the garlic or press through a garlic press.

Wash and finely chop the basil leaves. Mix together with olive oil, chili flakes and salt to create a seasoning oil.

Preheat the oven to 180° circulating air.

Take the dough out of the fridge and roll it out thinly on a floured surface. Place the thin pastry base on a parchment paper or baking mat. Brush the dough with the seasoning oil, leaving a generous edge of about 4cm free. This will be folded later.

Arrange the tomato slices on the oiled surface. Season with some salt, pepper and oregano.

Fold up the edges of the dough. Finally, brush them with some plant drink and put the galette in the oven.

Bake for about 45 minutes until the edges are browned.
Notes
The galett tastes both warm and cold. You can also take it to the office or later as a snack.