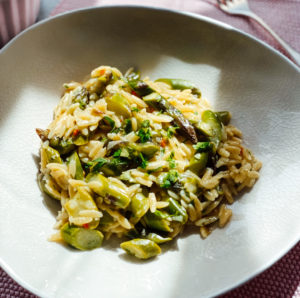 Of course you know risotto and you probably also know risoni pasta.
In today's recipe we combine both and refine the whole thing with green asparagus.
The pasta sotto with green asparagus is easy to make and doesn't take as long as a traditional risotto.
Thanks to the green asparagus, the parsley and the combination with lemon juice, this pasta dish tastes nice and light and is perfect for spring.
The rice-shaped pasta or risoni have a shorter cooking time, which makes it perfect as an after-work meal or a quick lunch.
It's best to just try it!
Print Recipe
Pasta sotto with green asparagus
Ingredients
2

shallots

1

tsp

vegan butter

500

g

green asparagus

125

g

risoni

(noodles like rice)

450

ml

vegetable stock

½

lemon

(unwaxed)

15

g

vegan Parmesan

(alternatively 5g yeast flakes)

¼

bunch

of parsley

salt

(to taste)

pepper

(to taste)
Instructions
Peel and finely dice the shallots.

Remove the woody ends from the asparagus (simply bend the bottom end, where the woody part ends where it breaks).

Wash the asparagus and cut diagonally into slices about 2 cm wide.

Set up a saucepan and bring to medium heat.

Melt the butter in it and add the shallots.

Simmer for about 3-5 minutes until translucent.

Then add the risoni and sauté for 1 minute.

First deglaze with about 300ml broth. Add the rest of the liquid as needed. The risoni should not be done yet, but the broth should be overcooked.

Stir frequently so the noodles don't stick.

Grate the zest of the lemon and add it to the pot.

Squeeze the juice from half a lemon and set aside.

Wash the parsley, dry it slightly and chop it coarsely.

When the risoni are done, reduce the temperature and stir in the parmesan or yeast flakes, but also the parsley.

Season with salt, pepper and lemon juice and serve.