I was recently craving a salad, but one that should make you full and happy. It should be colorful and crunchy, but also soft and creamy!
And a leftover sweet potato and some salad turned into my current new favorite salad in the end: Salad with roasted sweet potatoes! The spices make the salad very hearty and aromatic. The marinated sweet potato can be served warm on top of the salad if you want to eat it straight away. And that somehow makes it even more special.
You can be creative with the spices you use for the marinade. But our suggestion to combine garlic, cumin and lemon juice for the salad with roasted sweet potatoes is a great change from what we usually have on our plates every day and goes perfectly with dressing.
Tahini, lemon juice and maple syrup doesn't sound like an innovative dressing recipe, but in combination with the sweet potato marinade, we think the taste is really great!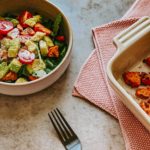 Print Recipe
Salad with roasted sweet potatoes
Ingredients
For the salad
1

sweet potato

(approx. 200g)

1

tbsp

lemon juice

½

tsp

of cumin

2

tbsp

oil

some chilli flakes

¼

tsp

salt

1

clove

of garlic

60

g

lettuce

(or green salad of your choice)

1

handful of cherry tomatoes

1

avocado

1

tbsp

lemon juice
For the dressing
1

tsp

tahini

½

tsp

lemon juice

½

tsp

maple syrup

(or agave syrup)

salt

pepper
Instructions
First peel the sweet potato and cut it into bite-sized cubes.

Then place in a bowl and mix together with lemon juice, cumin, oil, some chilli flakes and salt if desired. Press a clove of garlic through the garlic press or cut fine cubes with a knife and add it as well.

This is allowed to marinate briefly while the salad is washed and the oven is preheated to 180 ° top / bottom heat.

When the oven is ready, place the potatoes on a baking sheet lined with baking paper or even better, place a reusable baking mat underneath.

Make sure that the potato pieces do not overlap or lie on top of each other.

Bake in the oven for about 20 minutes. Until the potato is ready. This of course also varies, depending on how thick the potato pieces are.

Now wash the cherry tomatoes and cut them in half.

Cut the avocado into large cubes and mix carefully with a tablespoon of lemon juice so that it does not turn brown.

For the dressing, mix all the ingredients together and season to taste. If necessary, use a little more lemon juice or maple syrup.

In a large bowl, mix the washed and dry lettuce with the dressing and tomatoes. Place the avocado cubes on top.

Then take the cooked sweet potatoes out of the oven and add them to the salad. Enjoy!
Notes
This salad is extremely perfect on its own, but you can also enjoy some bread with it.
It is also perfect as a side dish when having a BBQ, of course!