In the summer months or on hot days in general, you often don't really feel like cooking or eating heavy dishes. Cold soups or salads are perfect for this. With some fresh ciabatta or other bread, you quickly have a delicious and light main course.
It is currently very hot for the time of year, so we can enjoy combining strawberries and green asparagus to form a light "summer dish".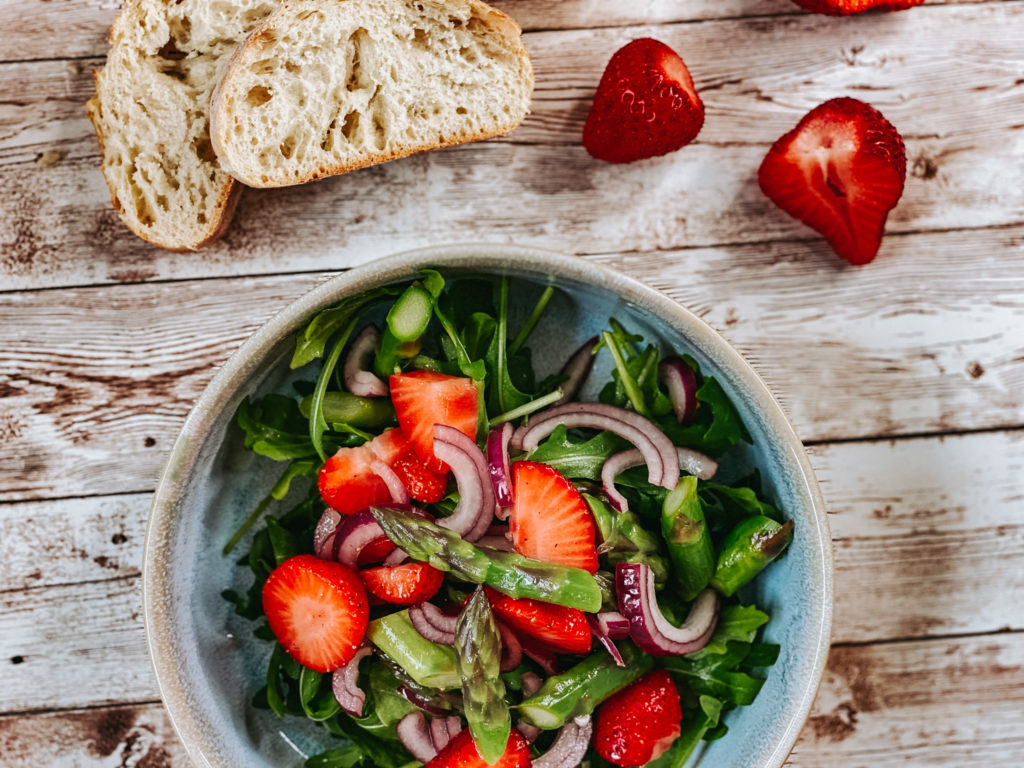 Maybe the combination of strawberry and green asparagus seems strange. But in combination with the dressing, which contains balsamic vinegar, you will be amazed how perfectly the flavors go together and what freshness this salad brings.
If you don't like the taste of raw onions, you can leave them out, but it's definitely worth a try. Because the red onions give off a great aroma in salads and are less spicy than the simple vegetable onions.
Print Recipe
Salat mit Erdbeeren und grünem Spargel
Ingredients
500

g

green asparagus

180

g

strawberries

80

g

rocket salad

1

small Red onion

2

tbsp

light balsamic vinegar

1

teaspoon

maple syrup

2

tablespoons

oil

salt

pepper
Instructions
First break off the woody ends of the green asparagus and wash the fresh stalks.

Then cut the asparagus into bite-sized pieces and cook them until they are firm to the bite either in boiling salted water or in steam.

Then rinse in ice-cold water so that it retains its color and does not continue to cook. Put aside.

Now wash the strawberries and rocket and let them drain.

Remove the stalk from the strawberries and cut into slices.

Now stir the dressing. To do this, peel the red onion and dice it finely or cut it into thin slices.

Mix with light balsamic vinegar, maple syrup and oil and season with salt and pepper.

Depending on your taste, a little more oil or maple syrup can be added.

If the acidity of the vinegar is too strong, the oil can reduce it or counteract it with the sweetness of the maple syrup.

Now carefully mix the asparagus, strawberries and rocket with the dressing and enjoy.
Notes
A few slices of fresh bread go perfectly with it.
Then it's a nice, light dish.