Today we are going on another excursion into the distance. Madeleine's Filipino roots brought us this wonderful recipe today.
Okoy are Filipino veggie pancakes that are traditionally prepared with tofu but also with shrimp. You prepare a viscous dough. Then add bean sprouts and spring onions as well as pieces of tofu and bake them into crispy pancakes.
In our vegan variant of the Filipino veggie pancake, we also use bean sprouts, but also other vegetables, such as thin carrot pieces and tofu. Instead of egg in the batter, we use cornstarch. When seared, the pancakes get really crispy. The tofu is also wonderfully crispy on the outside and remains nice and soft on the inside.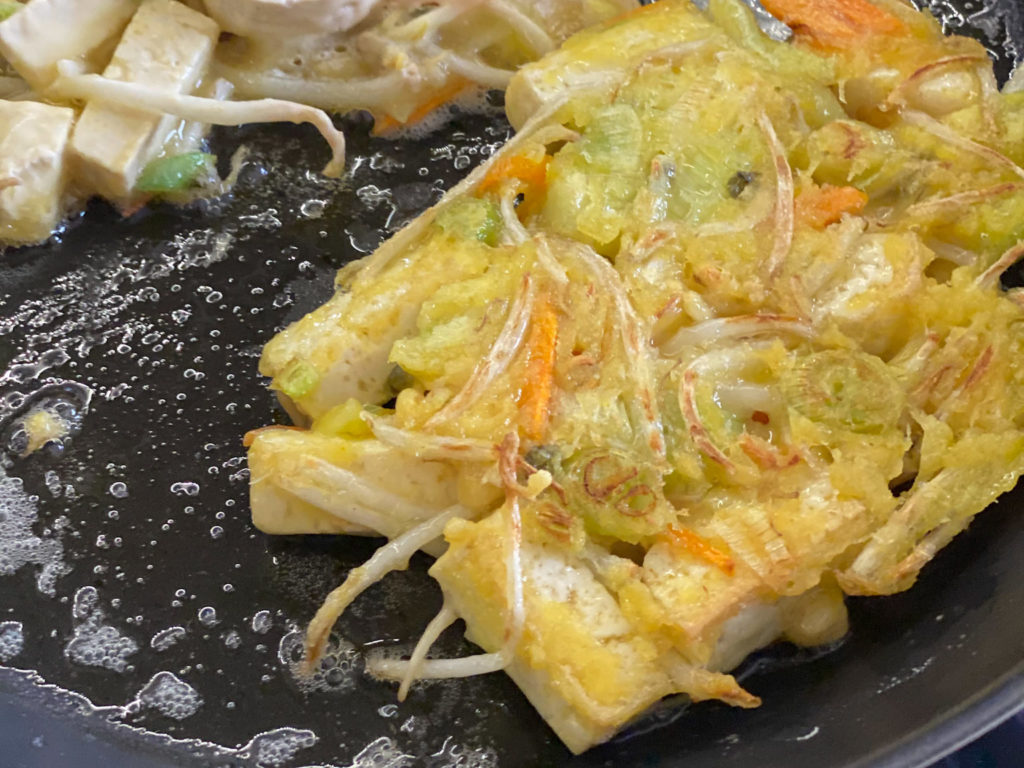 We recommend a sauce made from (coconut) vinegar, soy sauce, garlic and chili.
By the way, it also tastes great with spring rolls. A great change from sweet and sour sauce, which is usually served with Asian food.
Print Recipe
Filippino veggie pancakes "Okoy"
Ingredients
150

g

tofu

1

small carrot

2

spring onions

80

g

bean sprouts

2

tbsp

flour

2

tbsp

cornstarch or chickpea flour

½

tsp

salt

1

pinch

of turmeric

(for the color)

some paprika powder

80

ml

of water

Fat for frying
Instructions
Take the tofu out of the packaging and remove the liquid. Put the tofu on a kitchen towel and squeeze it out lightly. Do not crush it. We often put a board with a book or something on it on the tofu. This can now rest until the remaining ingredients are cut.

To do this, peel the carrot and cut it into thin strips.

Wash the spring onions and cut them into thin rings.

Now wash the bean sprouts and drain them well.

Take the tofu after being squeezed and cut into strips or cubes. Put everything aside.

Mix the flour, starch, salt, paprika powder and water into a viscous dough. It is best to add the water gradually. The dough should flow tough from the spoon. For a nice, yellowish color, a little turmeric can also be added.

After the dough is ready, add the vegetables and tofu and mix carefully.

Put on a pan with a little fat and heat it up.

Now use a spoon to pour part of the mixture into the hot pan. Press everything together a little and fry until golden brown on both sides.
Notes
The amount is enough for 4-6 pieces depending on the desired size.
As a main course, we would recommend double the amount for two people.