Creamy sauce with oven roasted bell pepper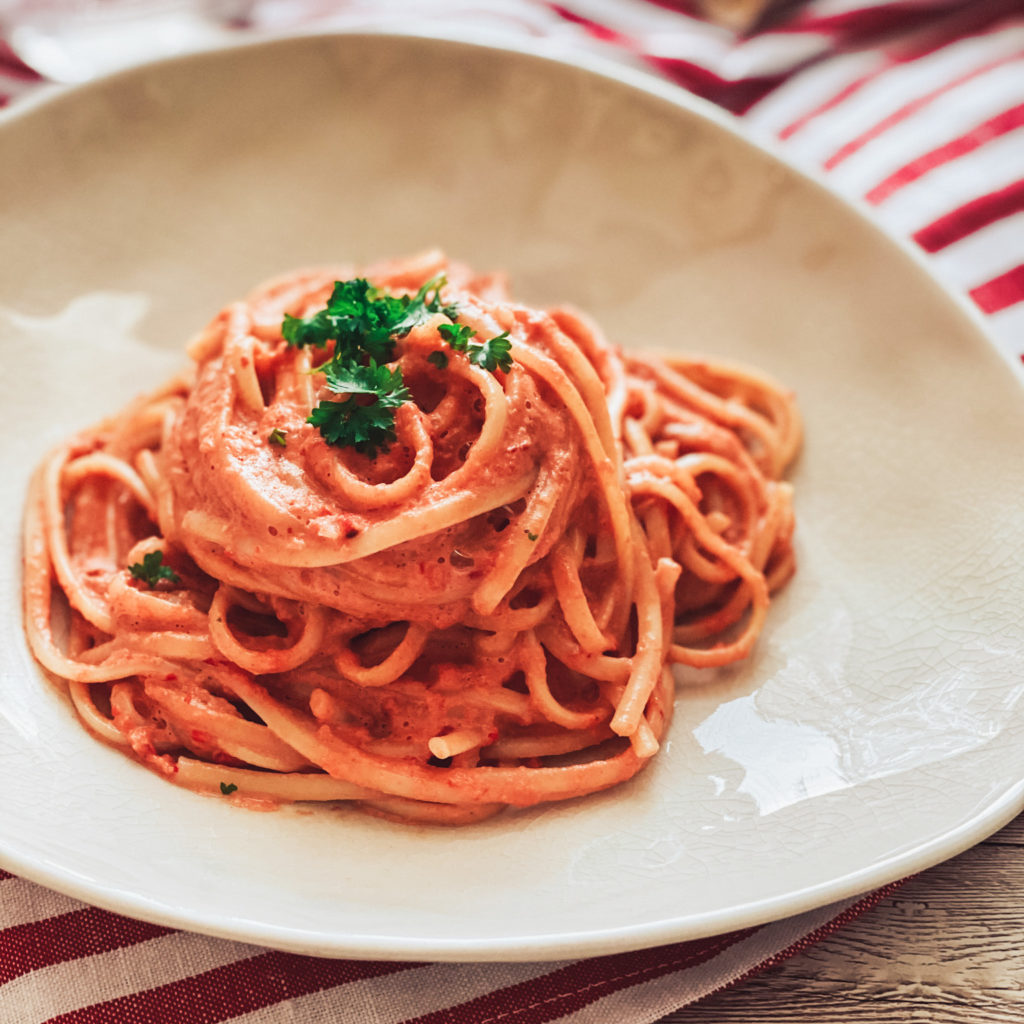 We love pasta in every situation, but sometimes it has to be something other than lentil Bolognese, pesto or tomato sauce.
We love paprika, so why not turn it into a flavorful, red pepper sauce?
Bell pepper is great because (at least the red ones) somehow everyone likes it and it can be used in a variety of ways. The nutrients should not be neglected either, because peppers are a great source of vitamin C! 100g red peppers already cover around 140% of the daily requirement of vitamin C!
Red peppers not only come up with lots of vitamin C: it also contains potassium, magnesium, zinc and calcium.
And let's be honest: As delicious and versatile as these nutrients come from, you can only count yourself lucky that peppers are also growing well in your home garden.
The particularly creamy aspect of the sauce comes from the meat of the peppers in combination with the cashew butter. And the intensely spicy taste comes from the roasted aromas that are created by roasting the vegetables in the oven.
When time is tight, but also to save resources (when the oven is already on), you can roast the vegetables the day before. Then the sauce is really ready in no time and certainly doesn't take longer than it takes to cook the pasta.
Tipp for version without using the oven:
You don't want to fire up the oven and still serve a delicious sauce to your pasta? You can also use already grilled peppers from the jar. Then you should first sauté the onion and garlic in a saucepan, add the peppers and then mix everything in the blender to create this creamy sauce.
You are not a big fan of bell pepper? How about a pesto? We can recommend this red pesto to you as well as the wild garlic pesto we already shared here on our blog.
Print Recipe
Red pepper sauce
Ingredients
2

red peppers

2

cloves

of garlic

2

tbsp

rapeseed oil

1

onion

2

tbsp

tomato paste

3

tbsp

cashew butter

½

tsp

salt

3

tbsp

yeast flakes

½

tsp

paprika powder

(or chili powder to taste)

140

ml

plant-based drink

(unsweetened)
Instructions
First preheat the oven to 200 ° convection.

Now wash the peppers and cut into wide strips.

Peel the onion and garlic and cut into strips.

Put everything in a bowl and mix with the oil.

Then place as flat as possible on a baking sheet and roast in the oven for almost 20 minutes.

Now the veggies needs to go into the blender or a bowl to get pureed.

Then take also the other ingredients: tomato paste, cashew butter, salt, yeast flakes, paprika powder or chilli and the plant drink and add before blending the sauce until smooth.

Then put the sauce into a saucepan, bring to the boil and season to taste.

Depending on whether the sauce is too thick or too thin, just add some plant-based drink or let it simmer for a few more minutes.
Notes
The sauce goes perfectly with freshly cooked noodles or as a sauce with grilled food, vegetables or slightly thicker as a spread for bread or sandwiches.