Some dishes you don't do very often, although they are easy to make and all the ingredients you usually have in your pantry anyway. Today we even have a dish that young and old will like, because everyone likes chickpeas, potatoes and a delicious tomato-based soup.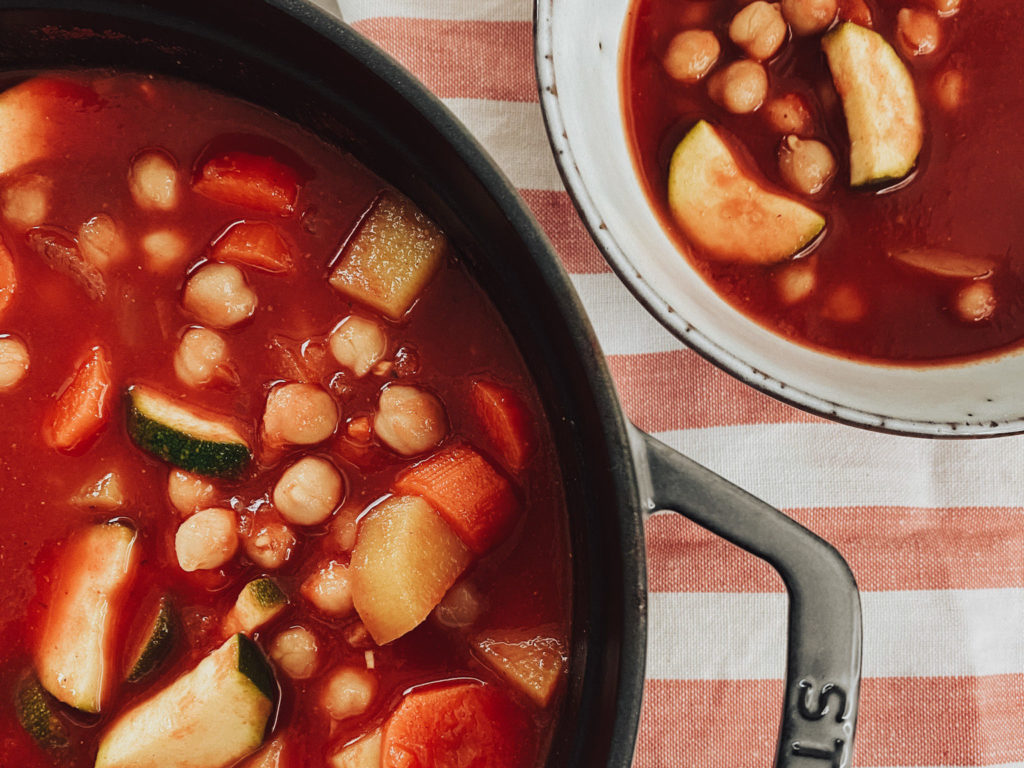 Cumin and coriander give our chickpea stew an oriental touch, but it is also delicious for the European taste.
We decided to use carrots, potatoes and courgettes as vegetables, but of course you can use your favorite vegetables here. Often you have leftover vegetables that are no longer quite as fresh. You can use them up perfectly in such a stew.
Print Recipe
Chickpea stew
Ingredients
250

g

carrots

(about 2-3 pieces)

300

g

potatoes

(about 2-3 pieces)

1

onion

1

clove

of garlic

2

tbsp

oil

1

tsp

coriander powder

(leveled)

1

tsp

cumin

(heaped)

½

tsp

smoked paprika powder

1

bottle of Passata

(690ml)

500

ml

vegetable broth

salt

5

allspice grains

(or some ground allspice)

2

glasses/cans of chickpeas

150

g

zucchini

(about 1 piece)
Instructions
Peel the carrots and potatoes and cut into slices or bite-sized cubes.

Peel and finely chop the onion and garlic.

Put both in a tall saucepan with oil and cook until translucent.

Now add the carrots, potatoes, coriander, cumin and the smoked paprika and roast briefly for about 2-3 minutes.

Deglaze the whole thing with the broth and the tomatoes and let it simmer. Now you can add a little salt and the allspice grains.

After the whole thing has boiled for about 10 minutes or before the potatoes have become too soft, add the chickpeas and zucchini.

The soup can now be seasoned and has to cook until the vegetables have the desired consistency.

Finally, remove the allspice grains and serve!
Notes
It goes best with some fresh bread.
The next day, when there is perhaps less of the sauce left, it also goes perfectly as a sauce with rice.