What would a breakfast be without a delicious scrambled egg !?
-Even a bit better if there is scrambled tofu instead!
If you eat a plant-based diet, you don't have to give up old habits.
One of those tasty habits might be scrambled eggs, for example.
For breakfast or brunch, but also for dinner on a good piece of bread, a great way to have some delicious proteins.
Depending on your taste and occasion, you can simply hold the scrambled tofu or serve it with cherry tomatoes, chives or with vegetable feta.
Another variant would be, for example, with previously fried onions and mushrooms.
Choosing the right tofu makes all the difference with this dish!
Depending on how you prefer the consistency, you should use firm or less firm tofu.
We have had the best experiences with firm tofu from the refrigerated shelf, but there are also differences here.
If you have already bought and prepared tofu several times, you probably already know your favorite variety.
If you have a very soft, actually firm tofu, you can fry it a little sharper and let the liquid evaporate.
With very firm and rather dry tofu, a little plant-based drink and an extra spoonful of almond butter can work wonders.
It's best to just try something out.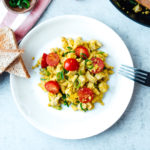 Print Recipe
Scrambled tofu
Ingredients
200

g

tofu

2

spring onions

1

tsp

oil

2

tbsp

almond butter

¼

tsp

turmeric

½

tsp

kala namak

1

handful

cherry tomatoes

(optional)
Instructions
Take the tofu out of the packaging and dry it well.

You can also take it out a while beforehand and weigh it down with something to squeeze out the liquid.

But not absolutely necessary here.

Now crumble the tofu with your hands and bring it to the shape of scrambled eggs.

Wash the spring onions and cut into rings. Set the dark green ends to one side for now.

Wash the cherry tomatoes and cut in half.

The white parts of the spring onions are now fried. To do this, heat a pan with a little oil and sauté the light-colored parts of the spring onions briefly (approx. 1 min.). Now add the tofu.

Fry everything a little on medium heat.

After 3-4 minutes, add turmeric (for the color) and almond butter.

Fry again briefly and distribute the color of the turmeric powder nicely when turning.

Finally, add the Kala Namak for the egg flavor, as well as the cherry tomatoes.

The "egg aroma" dissipates quickly, which is why it should be added shortly before the end of the cooking time.

If necessary, season with a little plain salt and serve with the remaining spring onions.
Notes
You can also serve the scrambled tofu with baby spinach or a few mushrooms.