Opinions are divided on the subject of breakfast. Some see an incredible number of possibilities (although they basically "only" think of porridge) and others think of sausage and cheese.
Sometimes it is not that easy to bring something delicious and nutritious to the table that gives you a good start to the day.
But we think porridges are a very good way to accommodate many of the important amino acids that you should consume throughout the day.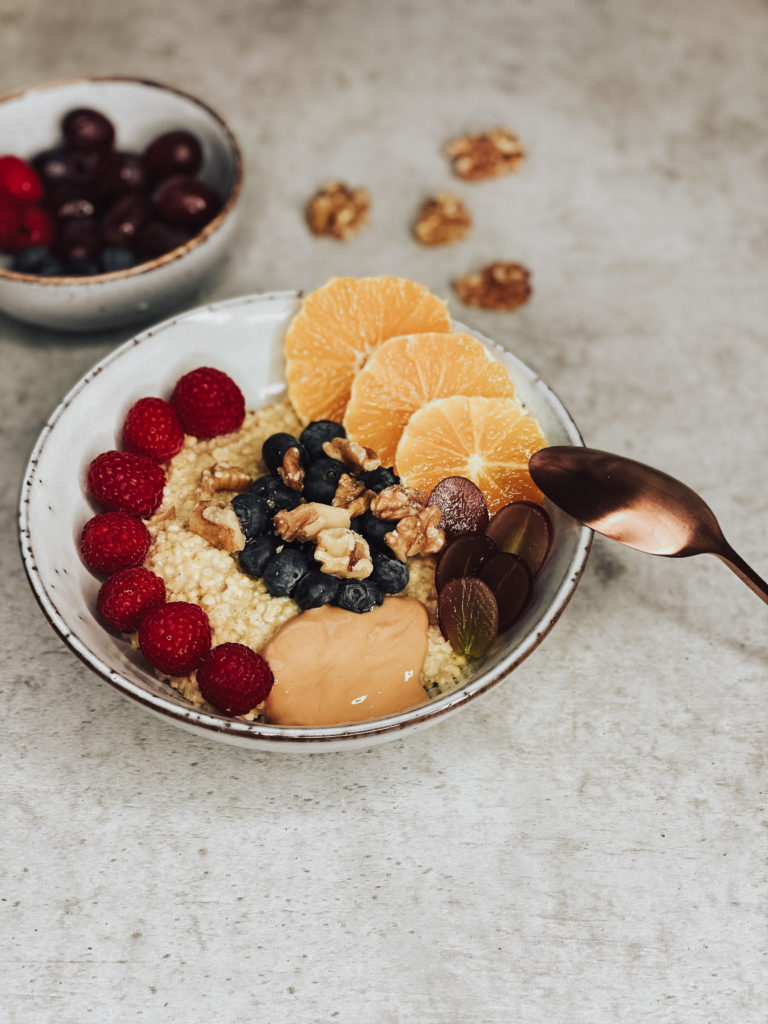 Today we are giving you a recipe for a nutritious porridge bowl made from millet, which can be modified so well to taste and mood that everyone will soon be one of the first group of people mentioned above.
By the way, did you know that millet is a fantastic vegetable source of iron? It provides up to three times more iron than wheat.
Together with foods rich in vitamin C, the body can then also perfectly absorb iron. -For example with orange as in our bowl example.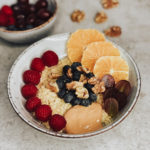 Print Recipe
Millet porridge bowl
Ingredients
140

g

millet

200

ml

of water

1/2

tsp

cinnamon

2

Medjool dates

300

ml

plant drink

1

handful of fruit of your choice

2

tsp

nut butter of your choice

nuts of your choice
Instructions
Wash the millet well in a sieve.

Simmer millet with 200ml water in a small saucepan with the lid slightly open for about 10 minutes.

Stone and finely chop the dates.

When the water is almost absorbed, add the plant drink and the dates.

Continue to simmer gently until the desired consistency is achieved. The millet should be done by then. If necessary, add a little more liquid and simmer briefly.

In the meantime, prepare the fruit for serving, i.e. wash and, if necessary, peel and cut.

Now arrange the millet in two bowls and serve decorated with fruit, a dollop of your favorite nut butter and a few nuts.