These cookies are a real sin! -Our nougat cookies!
Sandwich biscuits are not only popular with the little ones, but we adults will also have a hard time escaping this temptation!
Two crumbly biscuits with a creamy nougat core. Not only do they look great, they also make your taste buds dance a little with joy!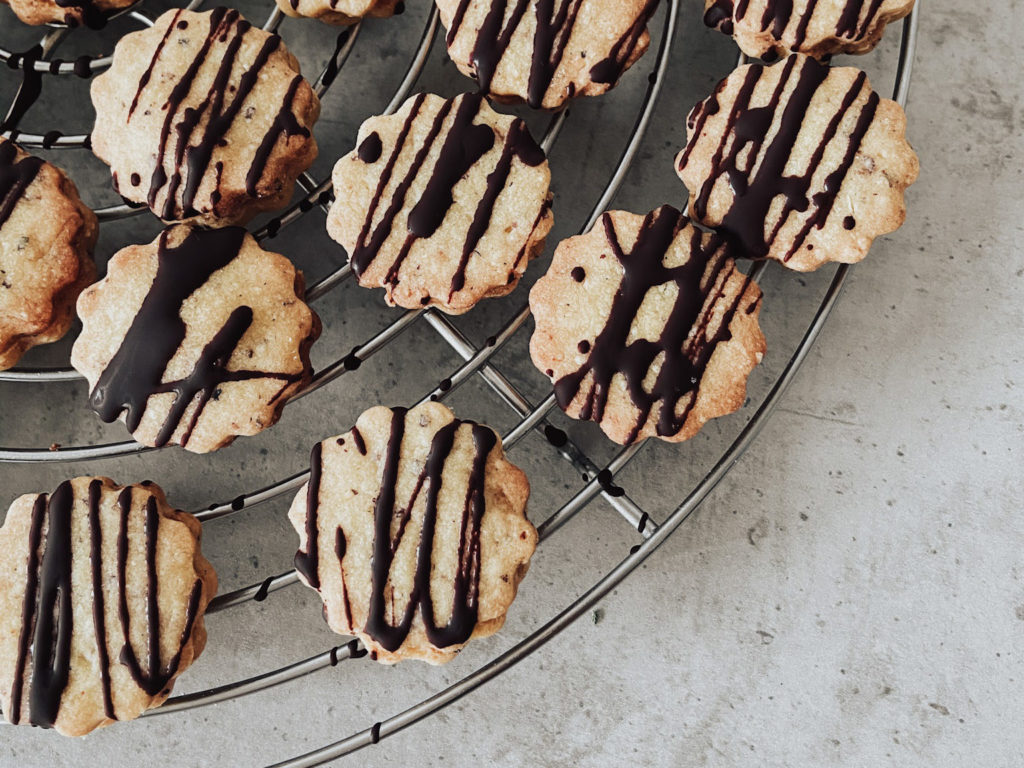 It is important to use good ground nuts here.
If yours taste a little less intense, you can tease it out by roasting them in the pan (without adding fat). But be careful: Always stick with it, stir diligently and when you are satisfied with the degree of roasting, take it straight from the pan! Otherwise you will experience a dark / bitter surprise!
Print Recipe
Nougat cookies
Ingredients
300

g

flour

100

g

ground hazelnuts

200

g

vegetable butter

(cut into small pieces and not too cold)

90

g

powdered sugar

20

g

vanilla sugar

100

g

nougat

50

g

dark chocolate
Instructions
Mix the flour, hazelnuts, powdered sugar and vanilla sugar in a bowl.

Add the vegetable butter and 1 tablespoon of cold water, quickly knead into a smooth dough and shape into a ball. Just knead the dough until everything is well mixed. In contrast to yeast dough, long kneading is of no use here.

Place in a closed container in the refrigerator for 30 minutes.

Preheat the oven to 180 ° C.

Roll out the dough about 1-2mm thick on a floured surface and cut out cookies.

Bake in the preheated oven for 10 minutes and allow to cool completely after baking.

Melt the nougat over a water bath. Put some nougat in the middle of a cookie and press on a second cookie.

Place the cookies on a wire rack and decorate with melted chocolate.