Yes, fall is coming. The leaves on the trees turn brown and orange and so do our plates. This typical fall dish consists of pumpkins, sweet potato and jackfruit we marinated with some nice and warming spices. But have a look on your own: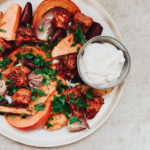 Print Recipe
Marinated jackfruit with roasted vegetables
Ingredients
Marinated Jackfruit
1

glass of jackfruit

(340 g)

2

tbsp

sambal oelek

2

tbsp

apricot jam or maple syrup

1

tbsp

smoked paprika powder

1

clove

of garlic

1

tbsp

olive oil

1

tsp

salt
Marinated sweet potato
1

sweet potato

1

organic lemon

(juice and zest)

1

tbsp

olive oil

1

tsp

apricot jam or maple syrup

1/2

tsp

salt
Roasted vegetables
1

small hokkaido pumpkin

2

potatoes

1

red onion

1

beetroot

3

cloves

of garlic

1

tbsp

olive oil

fresh parsley
Instructions
Preheat the oven to 180 °C.

Drain the jackfruit and place in a bowl. Peel the garlic clove, grate it finely and add to the jackfruit with the other ingredients of the marinade. Mix everything well and set aside.

Cut the sweet potato into approx. 1cm thick slices and mix with the zest of the lemon, lemon juice, olive oil, jam and salt.

Peel the red onions and garlic cloves and quarter the onion.

Quarter the pumpkin and remove the seeds. Cut into narrow strips.

Also cut the potatoes and beetroot into strips. Cut the beetroot a little smaller than the rest of the vegetables, as they take the longest to get soft.

Brush a baking sheet with 1 tablespoon of olive oil and spread the marinated jackfruit on top. Remove the sweet potato slices from the marinade and place with the jackfruit. Do not throw away the leftover marinade.

Spread the pumpkin, potatoes, beetroot, onion and all the garlic cloves on the baking tray and pour the sweet potato marinade over it.

Put everything in the preheated oven for 30 minutes.

Place the vegetables and jackfruit on plates and serve with fresh, chopped parsley.
Notes
If you want a dip, vegan creme fraiche or aioli taste great with the vegetables!