Warming stew for cold days
Sometimes it just has to be something hearty. And if you haven't used cabbage that often, this recipe for a hearty and warming cabbage and potato stew might change that!
There's a bit of veggie cutting work to start with, but once it's all in the pot, the rest pretty much takes care of itself. To make it a little heartier and add an extra source of protein, we used a vegan alternative to ground beef. Here we think the ones from the refrigerated section are great, and they are super easy to process.
If you're not a big fan of celery or cabbage, give this recipe a try. It actually tastes good in our family, big and small! -You should probably not tell them which veggies are in it 😉
But of course we also have other warming and delicious dishes for you. For example, take a look at this chickpea curry, the quick potato curry or the vegan minced leek soup that you probably know from the past! All recipes are of course vegan and delicious!
This is how the white cabbage and potato stew is prepared:
First we fry the vegan minced meat alternative in a little oil until crumbly. It is seasoned with smoked paprika powder and soy sauce. This is now set aside and comes back into play at the end.
Next up is cutting the vegetables. To do this, the outer leaves of the white cabbage are removed and the cabbage is separated from the stalk. We always cut it in half and then remove the stalk in the middle. The two halves are then cut into bite-sized pieces.
The carrot and celery make a great flavor and need to be peeled and diced first. Dice the celery finer than the carrots. If you use organic carrots, just wash them and cut off the ends. So you do not have to throw out the peel.
Peel the onion and cut into fine cubes. Set everything aside for now.
Heat some oil in a large saucepan and sauté the diced onions in it until translucent. Then add the carrots, celery and potato cubes. Everything is fried for about 7-10 minutes while stirring constantly and then deglazed with vegetable broth.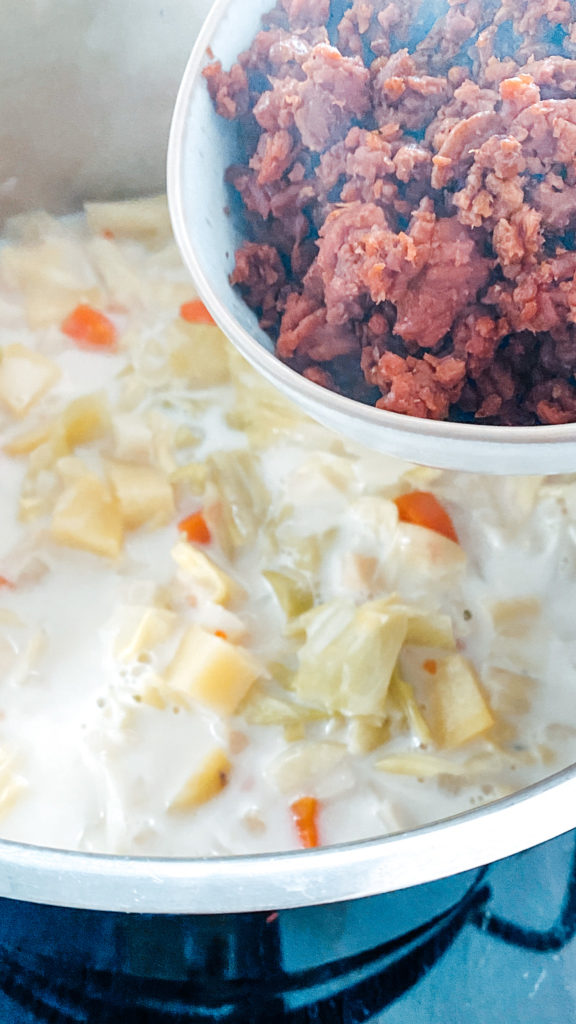 After deglazing, you can already add the mustard and stir well. Then the stew is allowed to simmer with the lid closed for 25-30 minutes until the white cabbage has softened. Shortly before the end, the vegan cream is added and the fried minced meat alternative is also added and stirred in. Before serving, season well with nutmeg, salt, pepper and, if necessary, a little more mustard. Now you can enjoy your white cabbage and potato stew!
A little hint:
The vegetable mince often becomes very soft when simmered for a long time. For a better bite and a better taste, we always fry it separately and add smoked paprika powder and a little soy sauce for a hearty aroma.
You can also convert the white cabbage and potato stew into a delicious sauce for mashed potatoes by using more broth and vegan cream and leaving out the potatoes. Then you have a hearty sauce that goes well with pasta and potatoes.
Print Recipe
Cabbage and potato stew
Ingredients
1

tbsp

oil

250

g

vegan minced meat alternative from the fridge

2

tbsp

soy sauce

1

tsp

smoked paprika powder

1

onion

2

tbsp

oil

150

g

celeriac

150

g

of carrots

450

g

white cabbage e.g. pointed cabbage

400

g

potatoes

800

ml

vegetable broth

1

tsp

mustard

200

ml

vegan cream

1

pinch

nutmeg

Salt

pepper
Instructions
Heat a pan with a little oil and fry the plant-based minced meat alternative in it until crumbly. Season with soy sauce and smoked paprika powder. Set aside until we add it to the stew at the end.

Peel and finely dice the onion.

Peel the celery, carrots and potatoes. Finely dice the celery, cut the carrots and potatoes into bite-sized pieces. Put everything aside. Finely chop white cabbage (we like to use pointed cabbage) and also set aside.

Set up a large saucepan and heat oil in it. Add the diced onions and sauté until translucent. Then add the celery, carrots and potatoes to the pot and sauté for 7-10 minutes. Stir constantly so that nothing burns on the pot.

Then add the white cabbage and deglaze with vegetable broth. Add the mustard to the pot and let the stew simmer for 25-30 minutes with the lid on. Stir occasionally.

When the cabbage and vegetables are soft enough, stir in the vegan cream.

Add the plant-based minced meat.

Season with nutmeg, salt and pepper. If some acid is missing, add some more mustard.