Simple chocolate buns without yeast
Especially as children we liked the classic chocolate buns from the bakery. Today we still love the taste, but they are not so easy to come by in vegan. Usually egg is used or butter is added to the yeast dough. We're big fans of yeast dough and we think it's the ideal twist to combine with chocolate, fruit, cinnamon or nuts. But when we are short in time, we are very grateful for recipes like this that require fewer ingredients and even less lead time!
This recipe is made without yeast (and of course without animal products). Therefore, you can also prepare it spontaneously quite quickly. They are super popular with the kids because they stay juicy for quite a long time. By the way, the buns taste great even without the chocolate!
But if you are also a fan of yeast pastries, you should definitely try our cinnamon rolls or a delicious chocolate babka. We have summarized a few helpful tips for yeast dough in a special "Basic knowledge of yeast dough".
This is how the vegan chocolate buns are made:
Making the dough for these delicious and soft buns with chocolate chips is super easy. With our step-by-step instructions in pictures, nothing can go wrong. Don't forget to preheat the oven. You can set it directly to 180° air circulation.
First, flour, sugar, baking powder and a pinch of salt are mixed. Then add the liquid ingredients.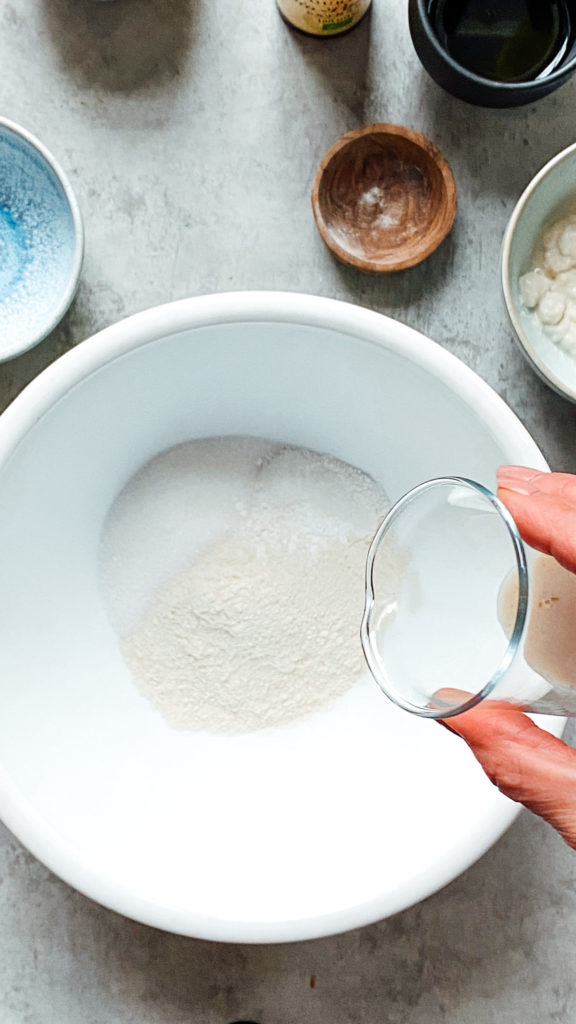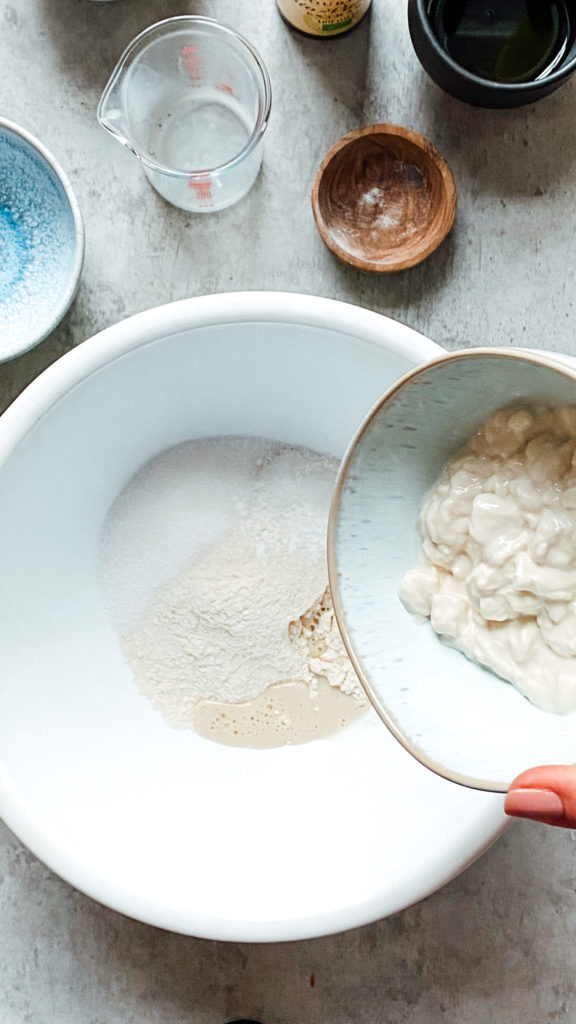 Plant drink, vegan quark or skyr, and a tasteless oil such as rapeseed oil are now added, as well as some vanilla. Whether you use an extract or the pulp of a vanilla bean is up to you. Alternatively, you can also use vanilla sugar and reduce the sugar accordingly.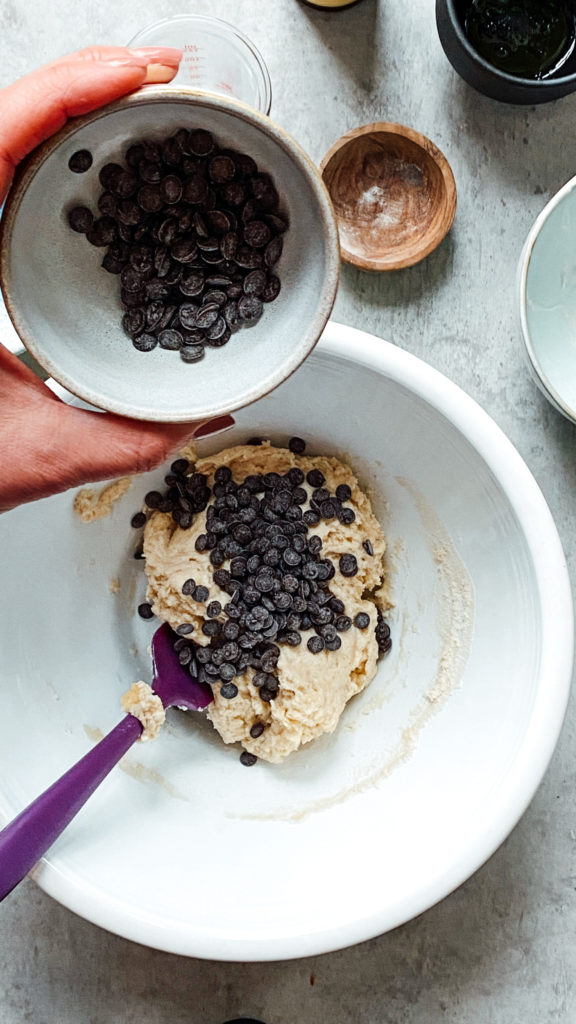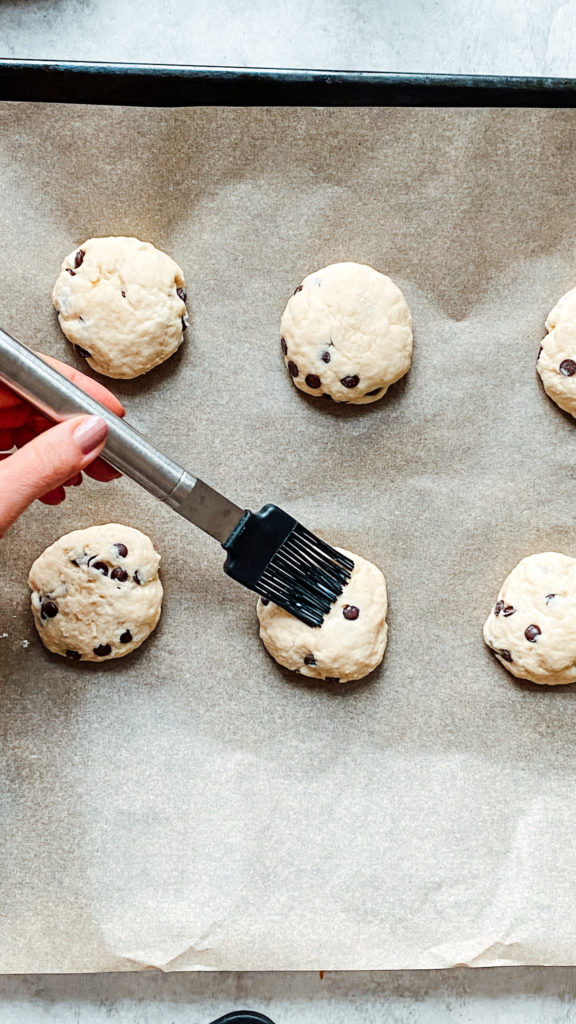 A slightly sticky dough is now made from the ingredients. It mixes up really well with a spatula. When the dough has been stirred together homogeneously, the chocolate chips are added. Would you like the chips to be clearly visible on the chocolate buns? Then it is helpful to put a good tablespoon of the chocolate chips aside and only put it on the rolls just before baking.
Depending on the desired size, divide the finished dough into about 6 equal parts and shape them into balls. Since the dough is a bit sticky, you can help yourself by moistening your hands a little. Finally brush with some plant drink and sprinkle with the remaining chocolate chips if necessary and off to the oven!
After just under 20 minutes you have a delicious scent in the apartment and warm chocolate buns ready!
A little hint:
So that the chocolate chips stick well to the buns and also to get a nice golden color, you can brush the buns with some plant milk. To do this, brush in directly after shaping and put the chocolate chips on top. Stored in an airtight container, the chocolate buns will keep for 3-5 days, depending on the temperature.
Print Recipe
Vegan chocolate buns
Ingredients
150

g

of flour

8

g

of baking powder

35

g

of sugar

3

tbsp

plant drink

3

tbsp

oil

90

g

vegan quark or skyr

(unsweetened)

vanilla extract

50

g

chocolate chips

1

tbsp

plant drink

(for brushing)
Instructions
Preheat the oven to 180 fan.

Mix flour, baking powder, sugar together with plant drink, oil, quark and vanilla extract to form a slightly sticky dough.

When everything is well mixed, add the chocolate chips. If it is important to you that there is a good amount of chocolate on top, set aside 1-2 tablespoons of the drops beforehand. Then knead in the remaining chocolate drops and form the dough into 6 rolls of the same size. This works well with slightly damp hands. If you prefer larger buns, divide the dough into fewer pieces accordingly.

Place the buns on a baking sheet lined with parchment paper or mat and brush them with plant-based milk using a brush.

Now the chocolate drops that have been put aside will stick better and you can distribute them on the buns.

Place the rolls in the oven for about 20 minutes until they have a lightly golden edge.