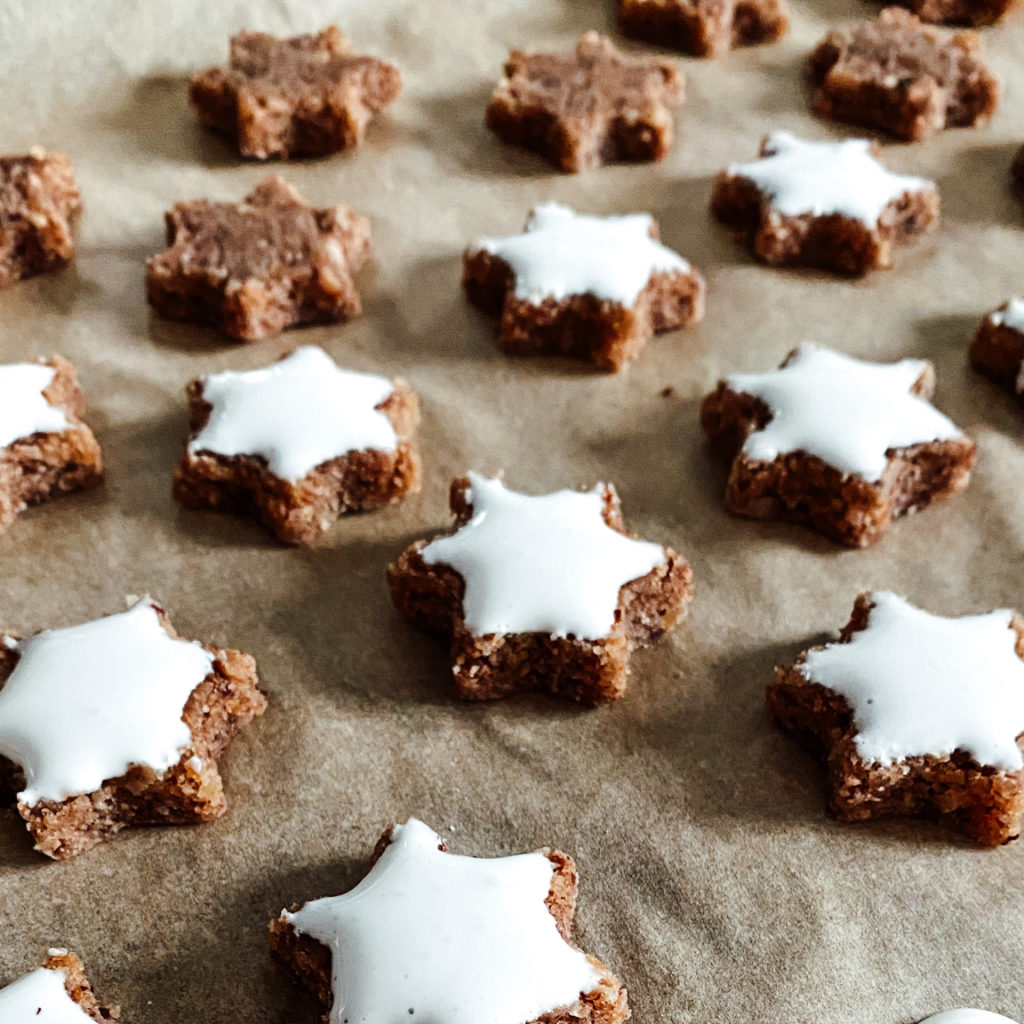 Classic cinnamon stars with aquafaba glaze
Cinnamon stars were and are classics that everyone (at least in Germany) probably knows from childhood. I used to have them in mind as immensely dry but oddly delicious cookies. Sometime later I tried them again and had to realize that they don't have to be such a dusty affair!
You can also make these delicious cookies yourself. Today we share our recipe for classic cinnamon stars with you, but made vegan.
The original cinnamon stars are covered with a glaze of whipped egg whites. Since we obviously don't want to do this with eggs in a vegan recipe, we grabbed the next best alternative: Aquafaba!
With aquafaba we get a great and fluffy alternative for whipped cream, which later (dried on the cinnamon star) gets exactly the same consistency as the classic cinnamon stars used to be by grandma.
How to prepare vegan cinnamon stars:
The quality of your vegan cinnamon stars increases with the quality of the ingredients used. We therefore pay particular attention to the best possible quality when it comes to nuts and spices. For the hazelnuts, we prefer to use already ground and roasted nuts. These simply have more flavor. You can also roast ground hazelnuts in the pan yourself. To do this, put the ground nuts in a pan (do not add fat!) and heat them up while stirring constantly so that they don't burn. When they start to smell fragrant, all you have to do is give them a little more stirring and transfer them from the pan. Otherwise, the nuts will continue to roast in the hot pan and possibly burn.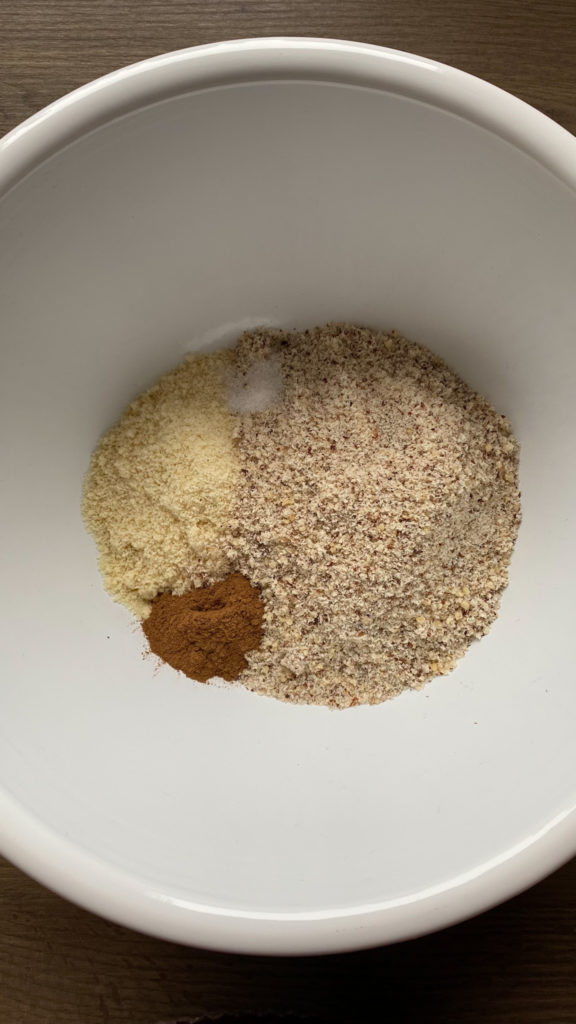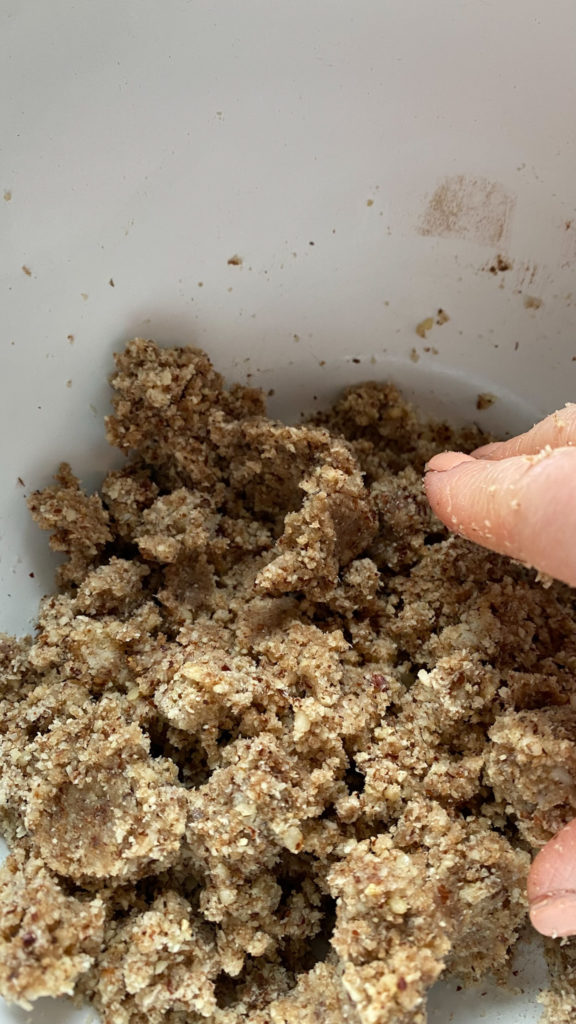 Place the ingredients for the dough in a bowl and knead everything together. Add the water little by little. Then you will notice when kneading when the dough starts to hold together.
Then you can already cover it and put it in the fridge and let it rest for about an hour.
After the resting time, roll out the dough on a floured work surface to a thickness of about 5mm. Cut out the cinnamon stars with a cutter. On a baking tray with baking paper or baking mat, these are now pre-dried in the oven for about 10 minutes at circulating air. Yes, the cinnamon stars are more dried than baked. This way they stay soft in the middle and become juicy cinnamon stars. After the drying time, let the cinnamon stars cool in the air.
Depending on the size of the cutter, you will get more or less stars. We had molds with a diameter of 3.5 cm and got about 70 cinnamon stars out. This results in a good 2 sheets, since you can place the stars next to each other with little spacing.
While the cinnamon is drying in the oven, the glaze is mixed. For this we use aquafaba, i.e. the liquid from canned chickpeas. We put them in a small jar. The mixer should still fit inside. This whips the aquafaba liquid into a kind of egg white. It will take a few minutes, but the foam will be whitish and similar in consistency to whipped cream. Then you can add the powdered sugar and a few drops of lemon juice. Continue stirring for 2-3 minutes, then an airy and somewhat firmer mass should have formed. You can now spread this on the cinnamon stars.
Small hint:
If making icing with aquafaba is too time-consuming for you, you can also use classic icing. All you need is powdered sugar and a few drops of water and/or lemon juice, which you stir together until smooth. Add the liquid drop by drop and stir. Repeat until the icing has a nice spreadable consistency. Then spread the icing on the stars and let it dry as well.
If you have any other ideas for your Christmas vegan cookie plate, how about a few fruity linzer cookies or our pretty almond caramel cookies?
Print Recipe
Vegan cinnamon stars
Ingredients
dough
180

g

powdered sugar

160

g

ground almonds

200

g

ground hazelnuts

(roasted)

1.5

tbsp

cinnamon spread

1

tbsp

lemon juice

3

tbsp

water
glaze
40

ml

aquafaba

(water drained from a can of chickpeas)

60

g

powdered sugar

a few drops of lemon juice
Instructions
For the dough, mix the icing sugar together with the ground nuts, cinnamon, lemon juice and water and knead into a dough.

Let it rest in the fridge for about 1 hour.

Line a baking sheet with parchment paper.

Dust the work surface with some flour and roll out the dough to about 5mm thick. Cut out star shapes with cookie cutters and place each star on the baking sheet.

Dry the cinnamon stars at 120° circulating air for 10 minutes while the glaze is being prepared.

To do this, beat 40ml aquafaba in a small bowl with the mixer until it has become white and frothy. This may take several minutes. Then add the powdered sugar and a few drops of lemon juice and mix for a few more minutes. The mass should now be a bit firmer and stickier.

Now brush the top of each star with the glaze and return to the baking sheet. Then the stars are baked or dried in the oven at 90°C top/bottom heat for about 20 minutes. In between, open the oven door briefly to let out the moisture. In the end, the surface of the aquafaba glaze should be almost dry and no longer stick to your fingers. Depending on the thickness of the aquafaba layer applied, this may take a little longer.

Take the cinnamon stars out of the oven and let them cool down.