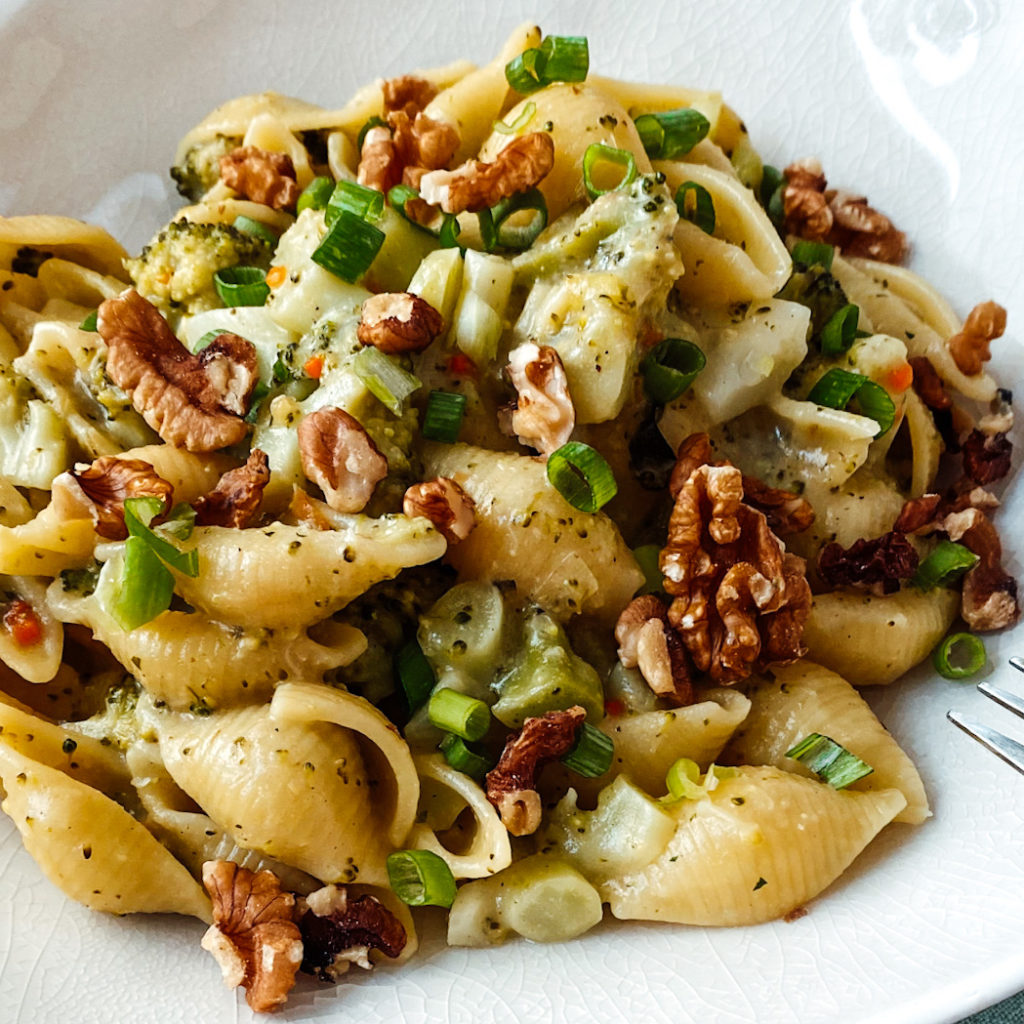 Easy one pot dish with creamy sauce
In our opinion there is never enough pasta recipes. Whether with tomato sauce, in a casserole, as a salad or in a one-pot with creamy sauce. Noodles can be combined in so many different ways that it is impossible to imagine our kitchen without them. Other quick and easy pasta dishes include our Mushroom One Pot, One Pot Pasta Arrabiata, or simple rocket pasta. All these are easy and quick to make on just one pot. So it is absolutely comparable to this vegan broccoli pasta recipe we share with you today.
If you prefer to make your pasta dishes a little more wholesome, you should use whole grain pasta. But if you eat a protein-rich diet, you can now look forward to a very large selection of pasta, for example based on lentils, chickpeas or edamame. You just have to try it out. The consistency of the pasta is often not identical to the conventional light pasta made from durum wheat. Nevertheless, these are a good alternatives.
In case you want to use protein-rich noodles we can recommend our Pasta alla Puttanesca, tomato sauce out of the oven or our very creamy and delicious roasted red pepper sauce.
Tip for your choice of pasta:
We used common durum wheat pasta for our vegan broccoli pasta. Compared to high-protein pastas, they're better suited for one-pot dishes because they're firmer, don't break that easy and go mushy when simmering and stirring.
So we cooked the pasta together with broccoli, spring onions and the other ingredients in one pot. This saves you time from cleaning dishes and maybe even gives you a little more motivation to cook something fresh yourself after a long day at work instead of calling the delivery service.
Print Recipe
Vegan Broccoli Pasta
One pot dish with creamy sauce
Ingredients
130

g

broccoli

2

spring onions

1

tbsp

oil

300

ml

broth

120

grams

of pasta

1

tsp

of cashew butter

½

lemon

(juice and zest)

20

g

walnuts

(optional)
Instructions
Divide the broccoli into small florets.

Cut the spring onion into fine slices. Separate the light green slices from the dark green ones.

Heat the oil in a saucepan and sauté the light parts of the spring onions in it. Add the broccoli florets after 2-3 minutes and also steam for about 3 minutes.

Now add the noodles and the broth.

Depending on the type of pasta, you may need a little more broth.

Simmer with the lid closed. Stir occasionally so that nothing burns.

For a creamy sauce, add the cashew butter just before the end of the cooking time and season with lemon juice and zest.

Finally, season with salt and freshly ground pepper.

Serve with a few roughly chopped walnuts.