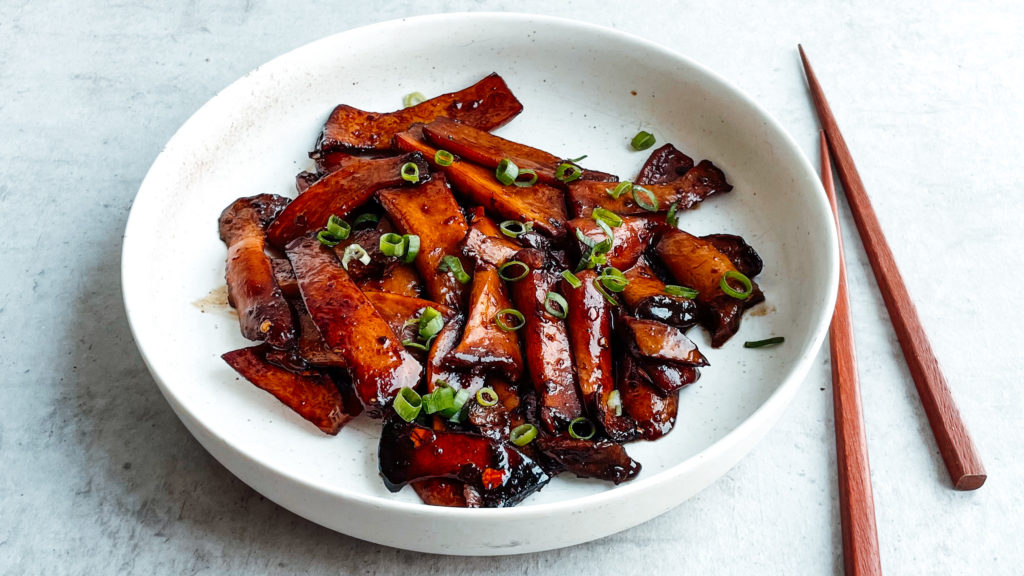 This is how you get a hearty vegan taste on your plate!
Umami is considered by many to be the 5th taste. Because in addition to salty, sweet, sour and bitter, there is this fifth taste, which is particularly familiar from Asian dishes. This flavor is often associated with eating meat, which is why it is widespread that vegan cuisine lacks a really good umami taste experience. In truth, the spicy, hearty umami taste is naturally found in olives, tomatoes, beans or soy sauce. They all contain a natural flavor enhancer – and are vegan!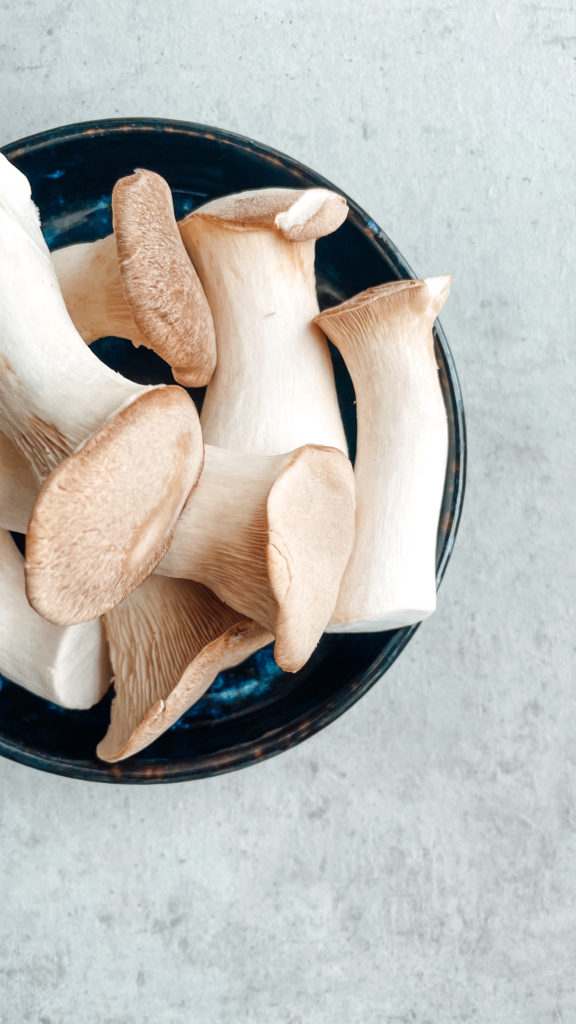 We love mushrooms and since we've been vegan and know how spicy mushrooms, porcini and co. really are, we're not afraid to try new creations with all kinds of mushrooms. On Insta but also on our blog we have already shown you one or the other recipe with mushrooms. Our simple mushroom cream soup or the mushroom one pot pasta are popular classics. But our wild mushroom galette and mushroom ragout are also great options for a hearty, vegan meal without a lot of frills.
The umami king oyster mushrooms are perfect as a topping for rice or pasta dishes. They can also be used ideally as a component in Buddha Bowls. With their hearty taste, we can even imagine them as a filling in pita bread!
The preparation is quite simple. The king oyster mushrooms are cut into thin slices, marinated and left to stand for almost half an hour to soak all the good the good taste of the marinade.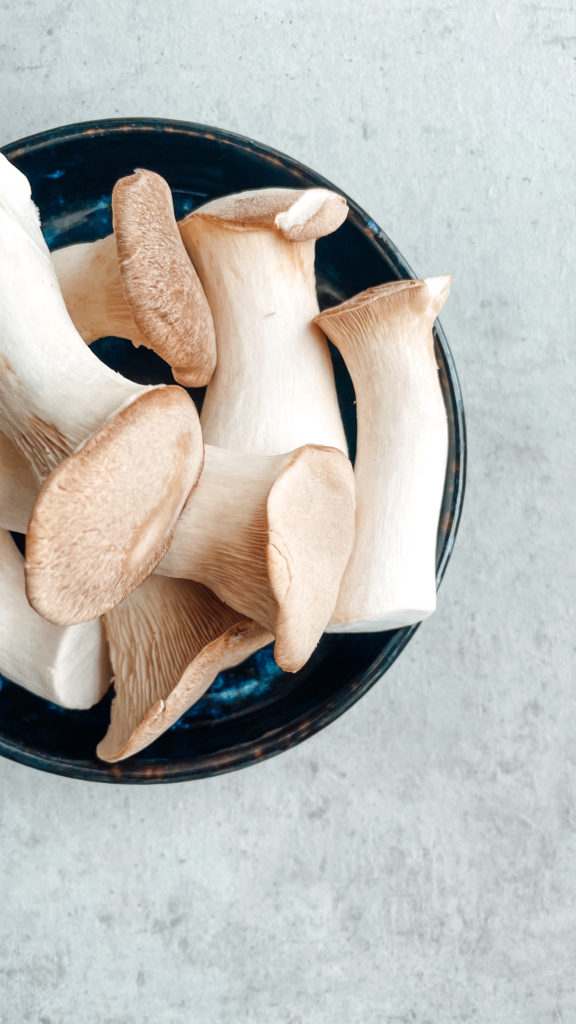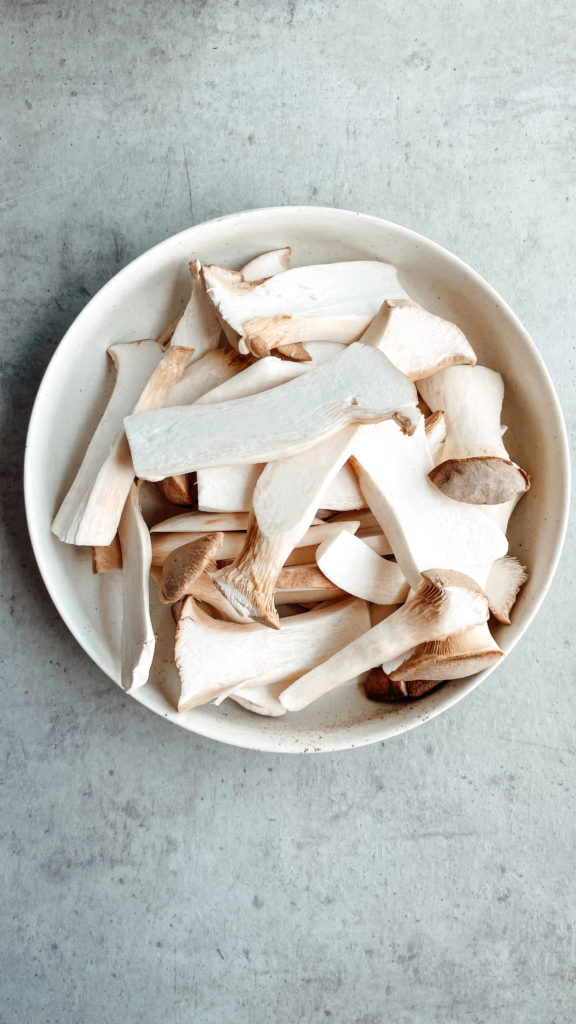 The flesh of the king oyster mushrooms is quite firm. They can be sliced quite easily this way. And if they get a little time, they make a delicious combination with the marinade, which just waits for their hearty use after frying. For example, you can serve them with our chili oil rice or with teriyaki rice. We have linked both recipes for you here.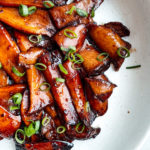 Print Recipe
Umami King Oyster Mushrooms
Ingredients
300

g

king oyster mushrooms

3

tbsp

soy sauce

1

tbsp

rice vinegar

1

tbsp

agave syrup

(alternatively maple syrup)

1

tsp

smoked chilli flakes

1

garlic clove

(grated)

1

tbsp

oil
Instructions
Cut the king oyster mushrooms into slices about 5 mm thick and set aside in a bowl.

For the marinade, mix the soy sauce, rice vinegar, agave syrup, chilli flakes and the grated clove of garlic and pour over the mushrooms. Mix well so that the mushrooms are evenly coated with the marinade.

Marinate for 30 minutes in the fridge, turning 1-2 times in the marinade in between.

Heat the oil in a pan and add the king oyster mushrooms. There will be some marinade left in the bowl, don't throw it away.

Now sauté the mushrooms over medium heat. You will lose some liquid while frying, continue frying until it has evaporated. Finally, pour the leftover marinade into the pan and sauté the mushrooms for another 3-4 minutes.

We like to use spring onions or sesame as a topping!
If you don't have smoked chilli flakes on hand, you can also use plain chili flakes.
Instead of rice vinegar, a light balsamic vinegar is also a good alternative. Even if you replace both ingredients, the taste of the umami king oyster mushrooms will delight you!