A classic that many people (at least in Germany) know and like is "Zupfkuchen".
With clever swapping of ingredients, you too can easily make a vegan "Zupfkuchen"!

It's basically a cheesecake with chocolate crust.
The base is made from a thin chocolate shortcrust pastry. This is covered with a "cheese mass" and further coarse shreds of the chocolate shortcrust pastry are placed on top of the cheese mass before the cake goes into the oven.
The dark pieces of dough are simply plucked off the lump of dough.
A cake that is not that difficult to make and yet looks great on every coffee table.
Do you remember the cake from your childhood?
It doesn't take much to veganize the cake. And everyone who's tried it so far has been absolutely amazed to hear it's supposed to be vegan.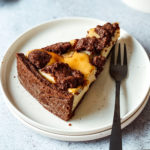 Print Recipe
Vegan "Zupfkuchen" chesecake with chocolate
Ingredients
Shortcrust:
300

g

of flour

25

g

of cocoa

100

g

of sugar

1

pinch

of salt

200

g

vegan butter

30

ml

water cold

Filling:

75

g

vegan butter

600

g

plant-based skyr

150

g

of sugar

50

g

starch

1

tsp

vanilla extract

(alternatively use vanilla sugar and correspondingly less sugar)

1

tbsp

lemon juice
Instructions
First put the flour, cocoa, sugar and a pinch of salt in a bowl. Add the vegan butter in small pieces and crush with your fingers while quickly kneading everything into a smooth dough. Add some cold water if needed.

Form the smooth dough into a flat ball and let it rest in the fridge for about an hour.

Meanwhile, grease and flour the springform pan. Put aside.

Next, prepare the filling by melting the vegan butter and mixing in the remaining ingredients. To do this, mix the skyr, as well as the sugar and starch, together with the vanilla extract or vanilla sugar and lemon juice with the mixer. There shouldn't be any lumps.

After the cooling time, set aside about 220g of the dough.

Preheat the oven to 180° top and bottom heat.

The base is made from the remaining dough.

Roll it out thinly on a floured work surface and line the mold with it. At the end you should have a border about 3 cm high.

Put the filling on the base and smooth it out.

Tear the set aside dough into chunks and spread over the filling in a pretty speckled pattern.

Place the cake in the oven and bake for about 60 minutes.