Who can resist soft cookies!?
We certainly don't, so we've added a delicious variant to our recipe for soft cookies.
As real fans of (good) peanut butter, we just couldn't avoid this flavor!
The dough of our peanut butter chocolate cookies consists of simple ingredients and
unlike many other vegan recipes, does not contain any banana or chia seeds to bind.
Flour and vegetable butter are completely sufficient and also leave nothing to be desired in terms of taste.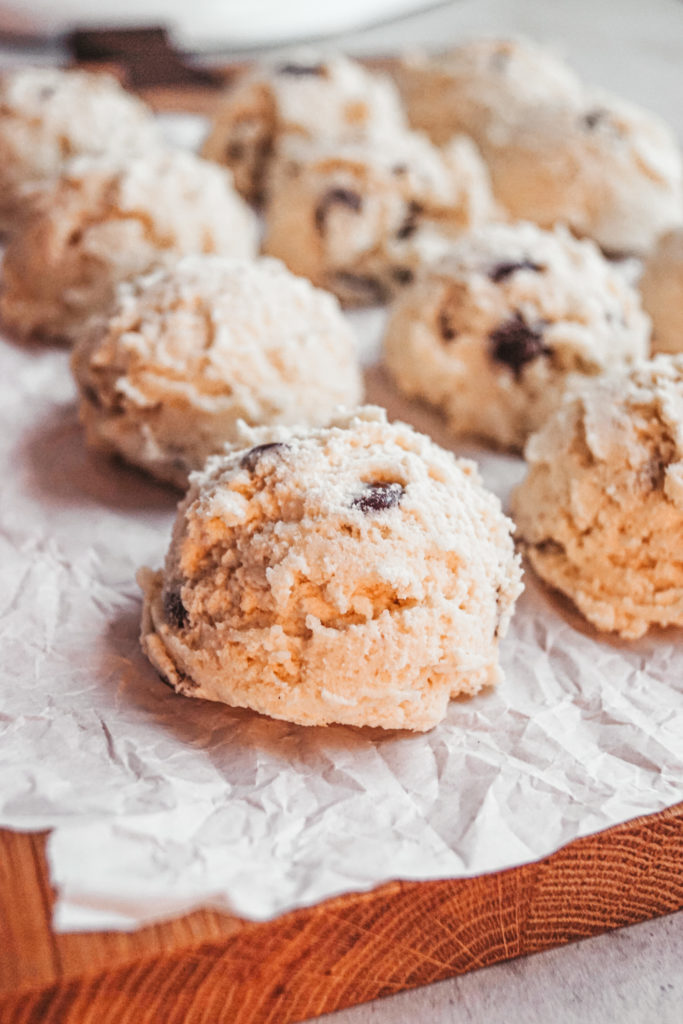 A good trick to getting evenly sized cookies is to measure out the batter using an ice cream ball scoop. Then place the ball on the baking sheet and flatten slightly. Then they will be as thin as the well-known cookies at the end after baking and cooling down!
Print Recipe
Peanut Butter Chocolate Cookies
Ingredients
250

g

vegan butter

200

g

brown sugar

350

g

flour

1

tsp

baking soda

1

pinch

of salt

100

g

chocolate drops

4

tbsp

peanut butter
Instructions
Preheat the oven to 180°C top/bottom heat.

Put the butter and sugar in a bowl and beat with a hand mixer for 5 minutes until fluffy. The mass becomes a little lighter.

In another bowl, mix flour, baking soda and salt.

Mix in the butter-sugar mixture.

Add the chocolate chips and peanut butter to the cookie dough and carefully fold in.

Form 16 balls from the dough. We like to do this with an ice cream scoop as it allows you to form consistent cookies.

The dough balls can now either be baked directly or frozen and baked as required. If you're preparing cookies for the next day, you can leave them in the fridge overnight and you don't have to freeze them.

Place the cookie balls on a baking sheet and bake in the preheated oven for 12 minutes. If using frozen batter, the baking time will increase by approximately 5 minutes.

The freshly baked cookies are very soft when they come out of the oven. So let them cool down on the tray for 5 minutes.

Then transfer to a wire rack and let cool completely.