We love pasta and I'm sure you will too!
There are complex and less complex pasta dishes, but due to the short cooking time of the pasta, they are particularly suitable if you want a quick, warm dish on your plate.
A good tomato sauce is not to be despised, but it also takes a relatively long time to develop the good aromas.
We came up with today's recipe because I was in the mood for black olives again. Together with tomatoes and pasta, this sounded like a wonderful combination. We turned that into this vegan version of pasta alla puttanesca.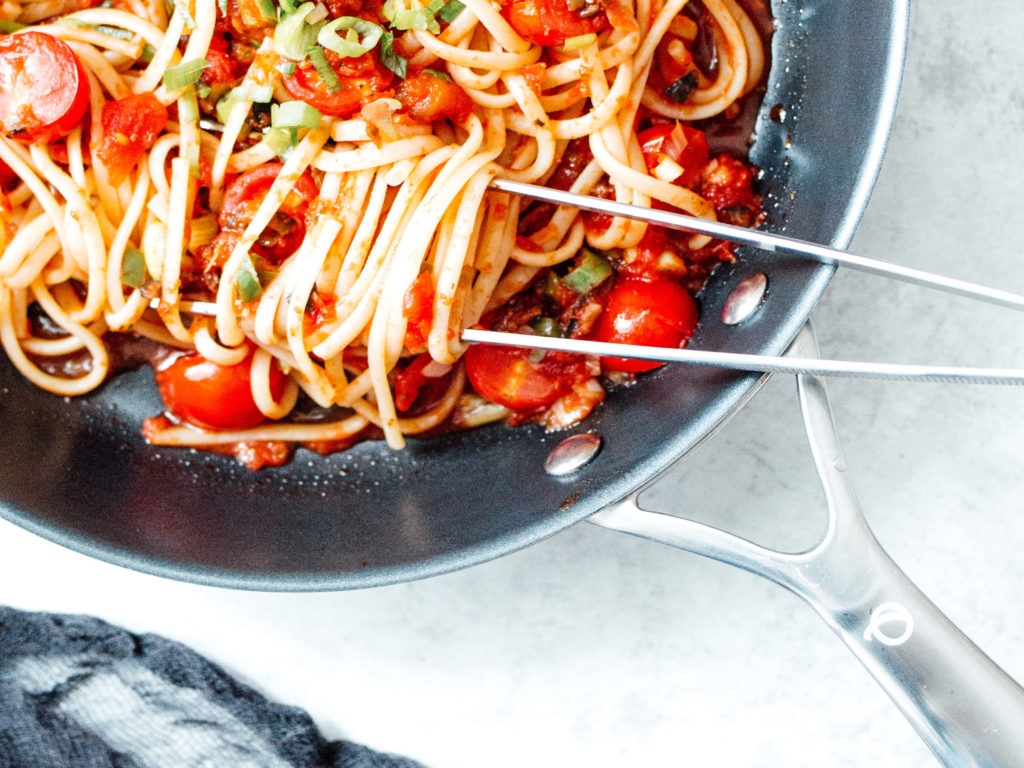 The original recipe from Italy includes anchovies, of course we left them out in our vegan version.
Other than that, the ingredients aren't exotic and you probably already have most of them at home.
If you don't have fresh spring onions, you can use regular onions. And the cherry tomatoes aren't a must either. But we really like these fresh and still somewhat firm little pieces of tomato in the sauce.
Just try this delicious pasta dish! The olives and capers really give the sauce a nice, spicy taste.
Print Recipe
Vegan Pasta Alla Puttanesca
Ingredients
250

g

spaghetti

(or other long pasta)

2

spring onions

1

clove

of garlic

1

chili pepper

80

g

black olives

(pitted)

25

g

of capers

100

g

cherry tomatoes

1

tbsp

olive oil

400

g

diced tomatoes

1

tsp

oregano

1

tsp

salt
Instructions
Cook the pasta in a saucepan according to package directions and then drain.

Cut the spring onions into rings and peel and finely dice the garlic cloves.

Wash the chilli and cut into thin rings.

Cut the black olives into rings and finely chop the capers.

Wash and halve the cherry tomatoes.

Next, set up a large pan, add the olive oil and sauté the white parts of the spring onions and the garlic cubes over medium heat.

After 1-2 minutes, when the onions have softened a bit, add the chili, olives and capers to the pan as well.

Add the oregano and sauté briefly.

Then deglaze everything with the chopped tomatoes and simmer for 5-10 minutes.

Now the cherry tomatoes can be added and the sauce can be seasoned with salt and oregano.

Add the now-ready pasta to the sauce and mix together.

Serve garnished with the left green rings of your spring onion and enjoy!