There are classics that you know and maybe even really like. But they are just practically not available in a vegan diet.
Madeleines are one of these classics. These little French delicacies can also be bought packaged in supermarkets. As a rule, however, they contain animal products. If you want to do without it, but not the taste, you've come to the right place! We have made a few attempts to put together a simple recipe for vegan Madeleines which will always work.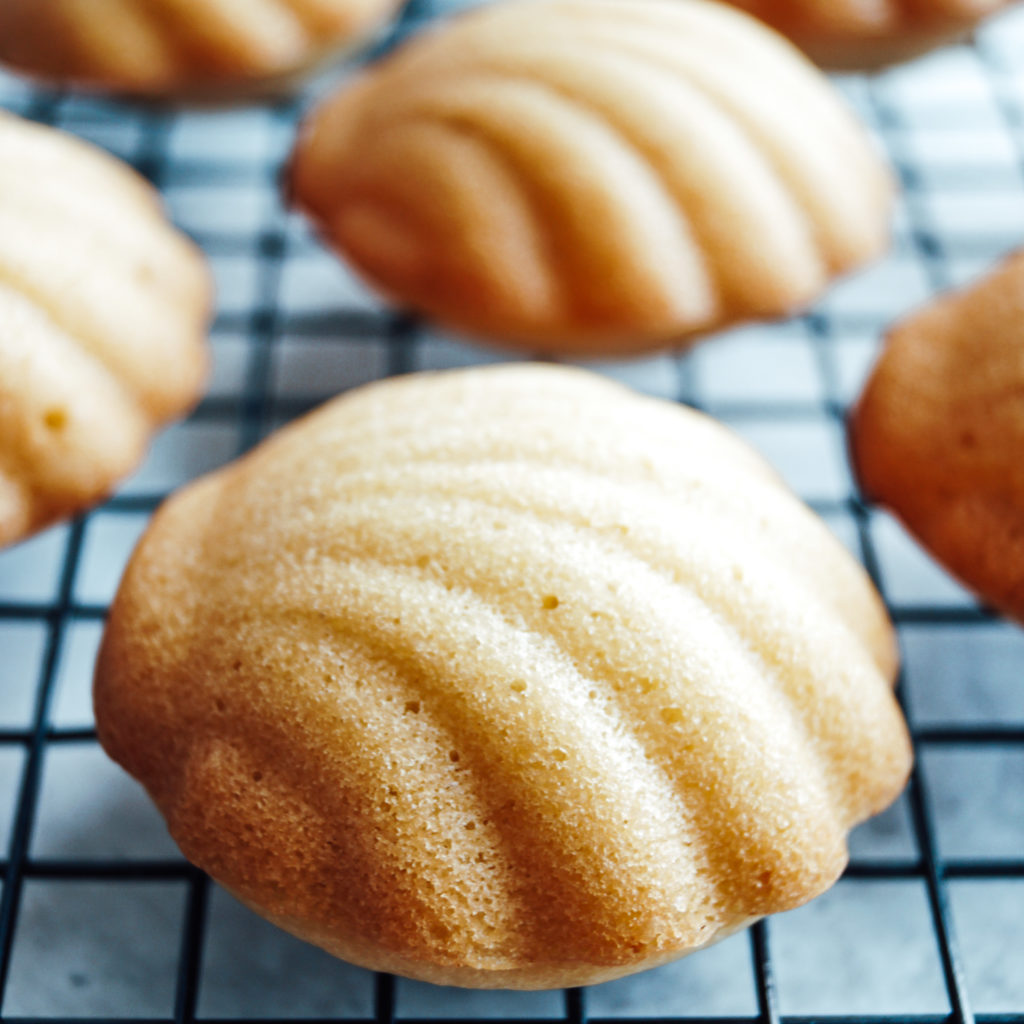 Our vegan Madeleines are so soft, fluffy and delicious and of course do not contain any egg or other animal ingredients! But what you absolutely need are the Madeleines molds or trays. This is the only way to create this beautiful classic Madeleine shape. But the dough is certainly also delicious in a different shape.
During testing, we also experimented with various other plant-based drinks. In the end, we had to find out that it really depends on the plant drink! So we advise you to really use soy drink for optimal results. Unlike most cakes, we would not recommend using the oat or nut variants in this case.
Print Recipe
Vegan Madeleines
Ingredients
150

g

wheat flour

15

g

corn starch

80

g

sugar

8

g

baking powder

1

pinch

of salt

100

g

soy yogurt

140

g

plant-based butter

60

ml

soy drink

1

dash of vanilla extract or zest from 1 lemon
Instructions
Sift the flour into a bowl and mix with the remaining dry ingredients.

Melt the plant-based butter and mix with the soy yoghurt, soy drink and the vanilla or lemon peel.

Mix the butter-yogurt mixture carefully and quickly into the dry ingredients. Do not stir too long, just until everything has just mixed.

Place the dough in the refrigerator for 20 minutes and preheat the oven to 180 ° C in the meantime.

Brush the Madeleine molds thinly with fat and distribute the batter over the molds. They should be ¾ filled with batter.

Bake in the preheated oven for 15-18 minutes (depending on the baking pan, see notes).

When the Madeleines begin to turn golden yellow on the surface, take the tin out of the oven, turn it out onto a wire rack and let it cool down completely.
Notes
There are different shapes for Madeleines. Rather smaller, flat pans that take 12 minutes to bake and larger pans that take 18 minutes.
We always do the test with a wooden stick when baking. When the dough no longer sticks when you pull out the stick and the surface is slightly golden yellow, the madeleines are ready!