You may already know our recipe for Wild garlic pancakes .
But since wild garlic is unfortunately not available fresh all year round, we would like to introduce you to an alternative that is basically a tasty variant all year round.
We're talking about scallions.
We use them here as a filling for our Asian-style pancakes.
The scallion pancakes are super easy to make and since the dough is not made from yeast it only takes a moment to rest. The dough can do this, for example, while you are preparing the spring onions or tidy some things up.
With this you can practically combine the few ingredients that you probably already have at home anyway and start with the delicious scallion pancakes right away.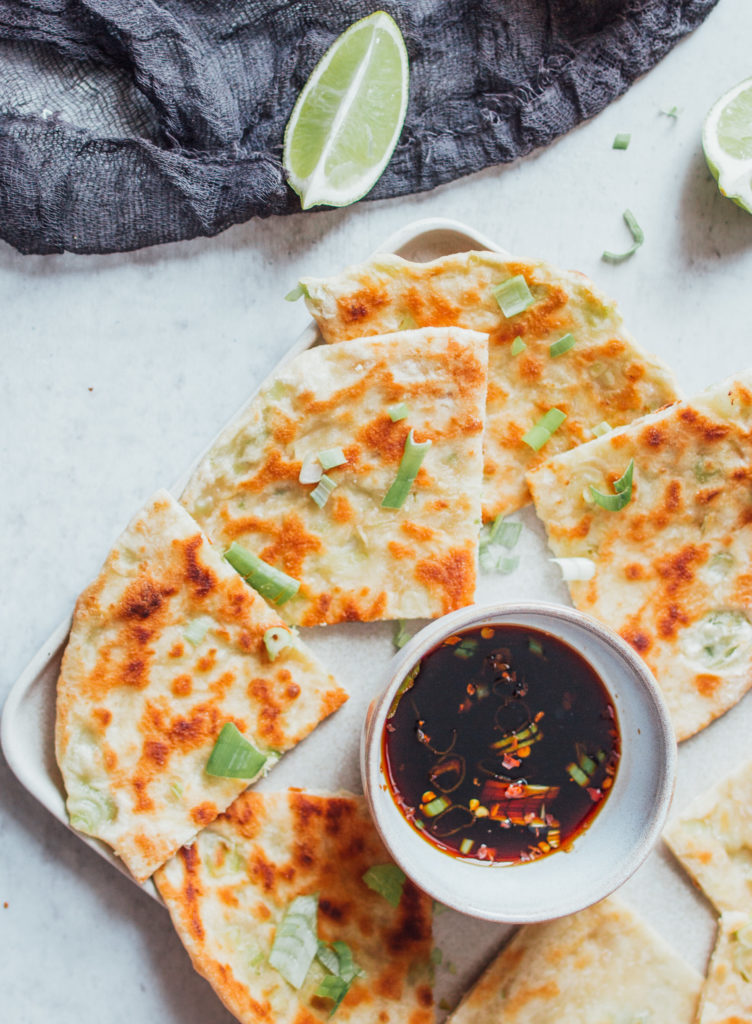 The dough consists of flour (we use spelled flour), a little salt and boiling hot water.
These ingredients are simply kneaded into a smooth dough and form the basis for our Asian pancakes.
After baking in the pan, you can serve it as a starter or as a snack in between.
We think a dip made from soy sauce, lime juice and chilli goes perfectly with it.
But I'm sure you can think of some other suitable dips.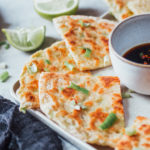 Print Recipe
Scallion Pancakes
Ingredients
Pancakes
250

g

flour

(spelled flour)

180

ml

water

(boining hot)

¾

tsp

salt

4

tbsp

oil for the pan
Filling
4

scallions

(the green part)

2

tbsp

oil

1/4

tsp

Sichuan pepper

1/2

tsp

salt
Sauce
4

tbsp

soy sauce

2

tbsp

lime juice

1

small

chili

(cut in small pieces)
Instructions
For the dough, put the flour, water and salt in a bowl and mix with a fork. Since the water is very hot, use the fork until the dough has cooled down a bit and you can continue kneading it with your hands.

Then continue kneading with your hands until the dough is smooth. This may take a few minutes.

The dough now has to rest for almost half an hour and should be formed into a ball and set aside, well covered (or in a sealed container).

In the meantime the filling can be prepared. Mix together the oil, salt and Sichuan pepper. Wash the spring onions, dry well and cut into fine rings. If possible, only use the green, softer parts of the spring onions for the pancakes.

Divide the dough into 4 equal pieces.

Roll out the first piece of dough thinly on a floured work surface, brush with 1 teaspoon Sichuan oil mix and spread 1/4 of the chopped spring onions on top.

Roll up the piece of dough and form this roll into a snail and roll it out again with a rolling pin.

Fill all the pieces of dough in this way and roll out into pancakes.

Heat 1 tablespoon of rapeseed oil in a pan and fry the first pancake on each side for a few minutes until the desired browning is achieved. This takes about 2-3 minutes.

Fry the remaining pancakes in 1 tablespoon of oil one after the other.

For the sauce, mix all three ingredients in a small bowl and serve with the pancakes.
Notes
This recipe is basically suitable for any occasion.
For brunch or as a snack and finger food to share.
We mixed soy sauce with lime and chilli as a dip.
The aroma of the lime tastes really fresh and delicious.
But lemon juice instead of lime is also great.