We used to eat a kebab late at night at the Turkish fast food restaurants around the corner, during lunch break or when we went out at night. If we had a little more time, we also enjoyed a kebab plate with this fantastic Turkish rice in addition to salad and sauce.
We now like to use falafel instead of meat, but the joy of this special rice has remained. For a long time we didn't even know what this dark "rice" variety was. We now know that it's not about rice, but noodles!
Turkish rice is not difficult to make. There are two special features you should know for cooking:
The original rice is a round grain rice from which the starch is removed before cooking. It is salted and poured with boiling water. After a few minutes, it is then rinsed with cold water before it is used for further cooking.
The fat is heated in a pan with a lid, in which the "Sehriye" noodles need to be toasted firstly. Only then the rice should be added. Then both needs to be fried for a few minutes before finally deglazed with water and cooked until ready.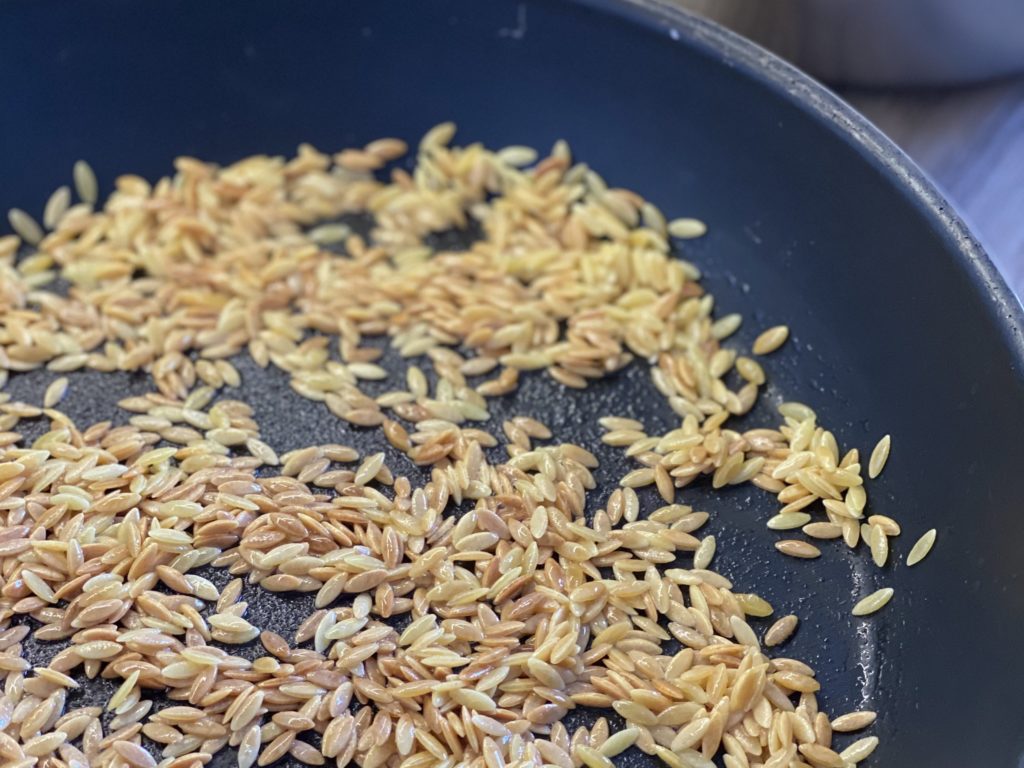 When roasting the noodles, you can see how the noodles change to the familiar color from the finished Turkish rice. But you have to be careful not to let the pan get too hot so that the pasta does not suddenly turn too dark and inedible. It is better to invest a few minutes longer az lower temperature until everything is evenly browned.
We were thrilled by how easy and delicious the Turkish rice is to prepare and will definitely have it on our plates more often now.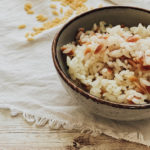 Print Recipe
Turkish rice
Ingredients
250

g

short grain rice

1

tbsp

oil

80

g

Sehriye

(noodles like rice)

20-30

g

plant-based butter

2.5

tsp

of salt

water
Instructions
Put the short grain rice in a bowl. Add 2 teaspoons of salt and pour boiling water over them. It is best to boil a large amount of hot water straight away, we will need that again later.

This should now rest for 5-10 minutes.

Now put the noodles in a large pan and fry them in the oil until they are visibly browned.

In the meantime, the rice can be drained and rinsed several times to wash away the salt water and starch. It is best to use a sieve for this and continue until the water is almost clear.

Now add the butter to the browned noodles, which should melt in the pan until frothy.

Then the rice can be added and should be fried for about 2 minutes.

Now deglaze the whole thing with the rest of the hot water. Add enough that the rice is covered and the water level is about 1cm higher. However, there is a tendency to use less than more water so that the rice does not become mushy later.

Now add a little more salt and put the lid on the pan. Let it simmer gently.

After 15-20 minutes, the rice should be cooked through and almost dry.

In between, please check whether there is still enough water and if necessary, pour a little more.

When the rice is cooked and dry, it is ready and tasty!
Notes
A yoghurt dip made from soy yoghurt, for example, goes well with this, but there are now very good plant-based alternatives to kebab meat.