You love donuts, but find the preparation too greasy or just too laborious? Buying vegan donuts is often not that easy. Especially if you don't live in a big city.
For these reasons, we have set our minds to make delicious donuts easy at home. And that's the result: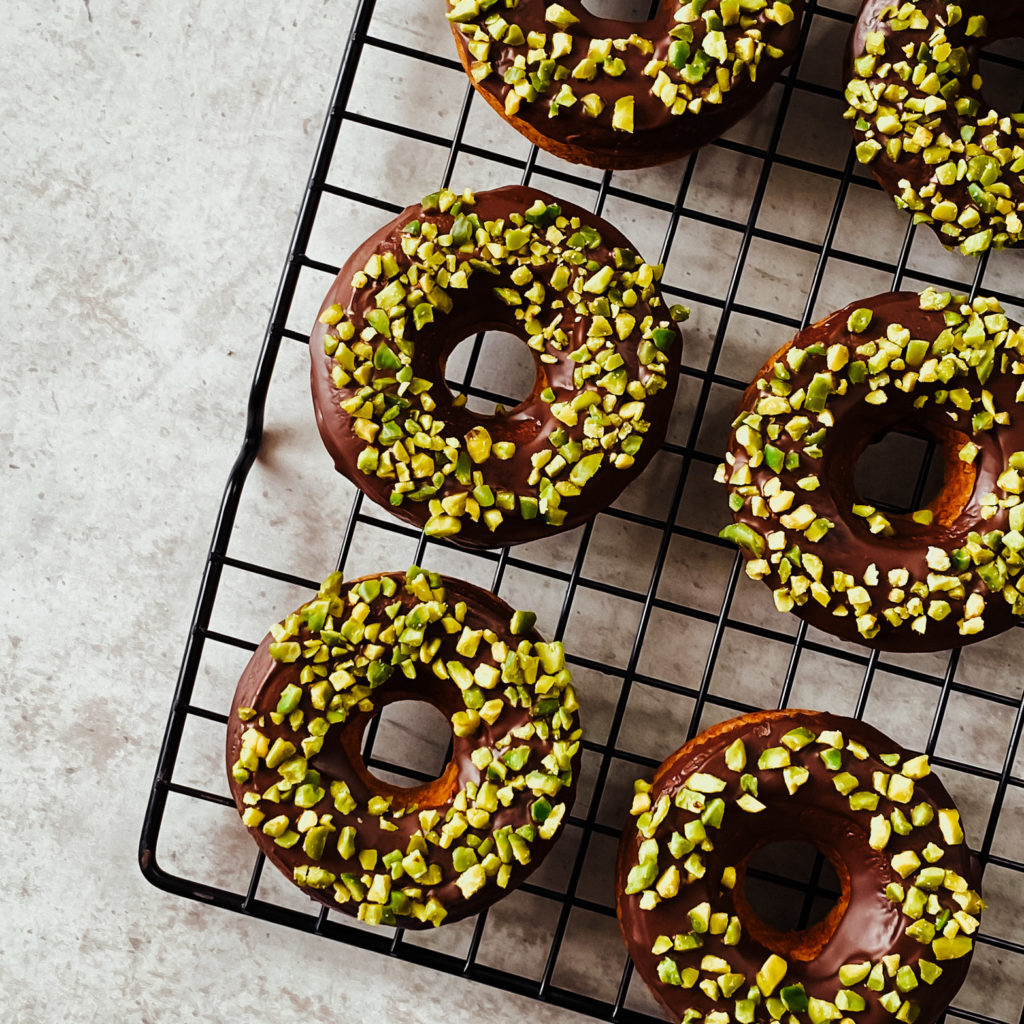 This result is not only visually amazing, but after a few less successful attempts it has also become really tasty and soft!
Since we don't deep-fry but bake in this case, you need a donut baking pan. But then nothing stands in the way of baking and feasting your own donuts at home!
Of course you can decorate the donuts according to your taste with colored sprinkles, light chocolate or many other things. You can let your imagination run wild!
Print Recipe
Vegan donuts from the oven
Ingredients
230

g

flour

(wheat flour type 405)

1 ½

tsp

baking powder

½

tsp

salt

80

g

plant-based butter

(soft)

80

g

sugar

3

tbsp

applesauce

200

ml

plant drink

2

tbsp

maple syrup

2

tsp

of baking soda

1

tbsp

apple cider vinegar

some ground vanilla
Topping
chocolate

chopped pistachios
Instructions
Preheat the oven to 180 ° C.

Mix the vegetable butter and sugar with a mixer for a few minutes until frothy.

Add the applesauce and maple syrup and stir. Then pour in the plant drink and mix briefly.

Mix the flour, baking powder, ground vanilla and salt in a bowl and stir into the butter and sugar mixture.

Finally, add baking soda to the dough and pour the apple cider vinegar directly onto it so that the baking soda foams. Mix everything again very briefly.

Put the mixture in a piping bag and pour into a greased donut baking pan. The donut molds should be no more than half full with batter.

Bake in the oven for 12 minutes.

Carefully remove the donuts from the mold 1-2 minutes after baking and allow to cool.

In the meantime, for the topping, melt the chocolate over a water bath.

Brush with the chocolate or press one side of the donuts into the chocolate and then into the chopped pistachios.

Transfer to a wire rack and let the chocolate set.
Notes
Make sure to use the correct type of flour. This will make the difference to have a perfect result!