Sometimes you simply need something sweet. And often we think of tastes that we know from childhood or from the time we also ate milk chocolate.
To bring this taste back, at least if you are a fan of "Chocolate Crossies" we can do you a big favor today! Our version of chocolate crossies are of course vegan, but also so super easy to make that you will ask yourself why you didn't do this before!
You can of course make this delicacy with your favorite vegan chocolate. We made them here in light and dark and can tell you that they really didn't survive long.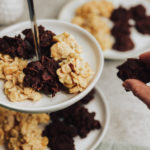 Print Recipe
Chocolate crossies
Ingredients
150

g

chocolate

(dark or white)

40

g

corn flakes

30

g

almonds

(chopped or sliced)
Instructions
Melt the chocolate over the water bath. Be careful not to let the chocolate become too hot.

When the chocolate is mostly melted, you can remove it from the water bath and keep stirring until the rest has melted.

While the chocolate is melting, add the cornflakes and nuts to a large bowl and mix.

Line a baking sheet or a large platter with parchment paper and have it ready.

Now add the melted chocolate to the cornflakes and nuts and carefully stir in. The chocolate should now spread thinly but evenly over the cornflakes and nuts.

Use two teaspoons to pile up small mountains or crossies and place on the tray or plate until the mixture is used up.

Now put the whole thing in a cool place. For those in a hurry, it can of course also be the freezer.

As soon as the chocolate has set, you can enjoy!
Notes
If you don't like almonds that much, you can of course use other nuts.