Super soft without banana or other egg substitutes
What could be nicer than sitting at the table with the family on a Sunday morning and the smell of fresh coffee and delicious vegan pancakes is in the air!?
This recipe has been tried and tested in our circle of friends and always works!
-By the way, these pancakes are not only a dream for breakfast! They also cut a fine figure for brunch or in the afternoon on the coffee table 😉
We LOVE it, so we wanted to share our (maybe 3 billionth) vegan pancake recipe with you, but you might find it as awesome as we do.
This recipe is something special, because not only is it free of animal products, it can be prepared perfectly the night before and only becomes really fluffy when it rests in the fridge. The secret lies in the combination of apple cider vinegar and baking powder. We'll tell you more in the tips for perfect vegan pancakes.

Our recipe does not require any fruit puree. Most of the recipes we found for vegan pancakes were made with either applesauce or a mashed, ripe banana. But we think pancakes should taste like pancakes, so the variant with banana in the batter is out of the question for us.
For a long time we also had a recipe for vegan pancakes that used apple sauce or apple puree. But we always had leftovers in the glass, which ultimately had to be disposed of far too often.
If you haven't found any good recipes for cakes without egg substitutes yet, we can recommend a few here. All of our recipes for cakes and pastries do not use chia eggs or fruit sauce.
Our lemon cake is a good example, but you can also find walnut cake or the classics such as Bienenstich and "Donauwelle" which is a kind of marble cake with cherries here on our blog, so just take a look around!
Tips for perfect vegan pancakes
To make this classic American treat particularly good, you should first mix the dry ingredients, i.e. flour, sugar and baking powder or vanilla sugar, with a whisk. This will help prevent lumps, as any lumps of flour will already be loosened up. Now all the wet ingredients are mixed together – except for the apple cider vinegar – and this mixture is then added to the dry mixture. You don't necessarily need a mixer for this. You should be fine with a whisk. Small lumps are not absolutely ok.
To get the best reaction—airy bubbles in the batter—don't add the apple cider vinegar until the end, when the rest of the ingredients have already been mixed into a smooth vegan pancake batter.
Now the dough is allowed to rest a little and it will only become more airy!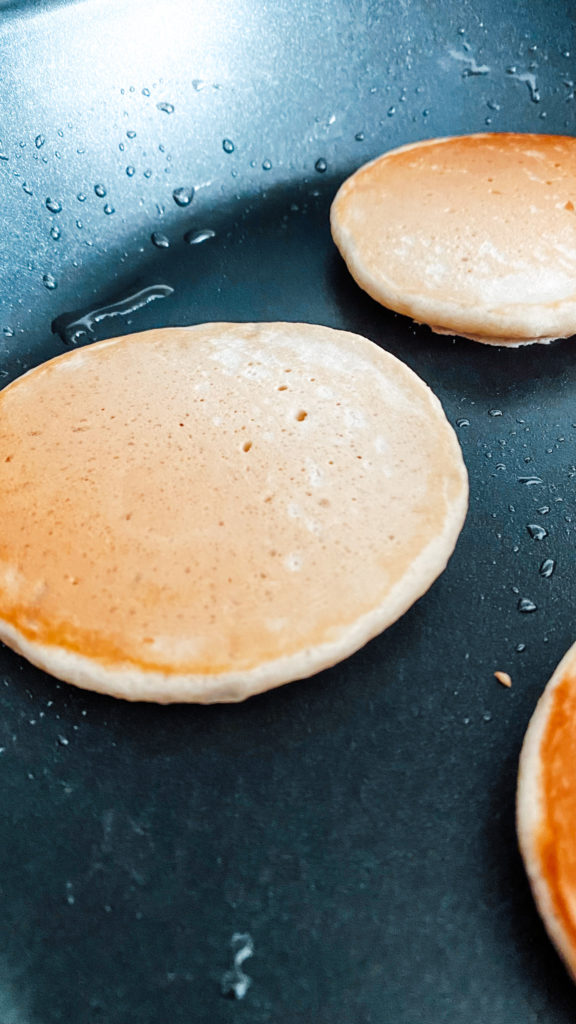 After the resting time, the dough gets visibly bubbles. If you then put the batter for the vegan pancakes in the hot pan, tablespoons at a time, they will get even bigger and the pancakes will be super airy and fluffy as they should be!
3 ideas for special vegan pancakes
You've probably already found your favorite way to enjoy fluffy vegan pancakes.
But if you are open to new things, here are a few ideas for combining:
Blueberry Pancakes: Just before frying, add a few blueberries to the batter and bake.
Pancakes with chocolate filling: Put some batter in the pan, put a small piece of your favorite vegan chocolate on top and cover it with another dollop of pancake batter. Bake as usual and enjoy!
Pancake Cereals: Pancakes have also been celebrated on social media as pancake cereals. For this you should make mini pancakes from the dough. A squeeze bottle works best for this. With this you only put small blobs of batter in the pan. Then fry these tiny fellows on both sides as usual and later arrange them in a bowl like cornflakes with a plant-based drink.
Do you have any other ideas and tips for serving vegan pancakes in a different way?
Let us know! We test them and are happy to add them to our post!
Print Recipe
Fluffy vegan pancakes
Ingredients
200

g

flour

(e.g. spelled flour)

50

g

sugar

8

g

baking powder

250

ml

plant-based milk

1

shot of vanilla extract

(alternatively plant milk vanilla)

1

tbsp

apple cider vinegar
Instructions
First mix the flour, sugar and baking powder together.

Mix together plant milk and vanilla extract and then mix with the mixed dry ingredients.

As soon as you have a smooth pancake batter ad the apple cider vinegar and quickly fold it in.

Now let the dough stand for at least 30 minutes but also great overnight.

Then fry the pancakes of your preferred size on both sides with a little oil in the pan.

When the vesicles appear on the top and the edge starts to dry out, it's time to turn them over.

While the rest of the pancakes are still being fried, it is best to keep the finished ones warm and serve garnished with maple syrup, chocolate cream or nut butter. Of course, you can´t go wrong with some fruits!
Notes
Incidentally, we also recently added the combination of maple syrup and pomegranate seeds to our list of favorites.